My sister has been asking me how to apply for a credit card. But every time I ask her why, her answer would always be, "to use it for shopping and buying concert tickets online."
And I, as a financial literacy advocate and naturally frugal Ate, would always say the negative things about credit cards.
But actually, there's nothing wrong with having a credit card. It's a tool that we can use for things that sometimes cash can't like purchasing plane tickets and paying bills online. It offers convenience among other advantages.
But having a credit card is not for everybody. One of the reasons why I always refuse to apply a supplementary card for my sister is that I think she's not financially mature yet. Though I get her point that she can use it for purchasing tickets online, she can always ask me to do it for her. Or maybe she doesn't want me to know all her online purchases that's why she wants to have her own credit card.
It's not that I'm being hard on her. I guess I'm just trying to protect her from having credit card debts if she fails to commit to her responsibilities as a credit card holder. I know a lot of people who got buried in credit card debts for varied reasons and I don't want it to happen to her.
Two days ago, I received an email from BPI regarding a promo for new credit card applications. After checking all the details, I thought that this might be a good opportunity for my sister who's been wanting to have her own credit card.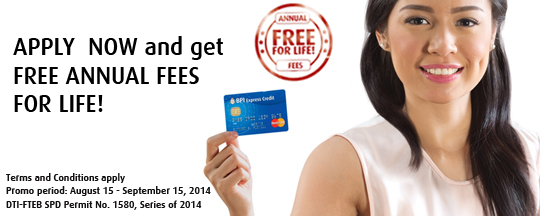 Here are two of the Promo Mechanics:
1. The promo  is open to qualified new-to-BPI primary credit card applications received with complete requirements and documents from August 15 to September 15, 2014 and subsequently approved.
2. Qualified accounts will enjoy FREE FOR LIFE membership fees, subject to availment of at least one (1) supplementary card AND/OR BPI Express Credit-to-Cash of at least P10,000.
The second was the one that caught my attention. Free For Life Membership Fee is really a big, big deal. Annual credit card membership fees now range from P1,000 to P5,000 depending on the type of card. And having it for free and for life is just an amazing opportunity. I wished I don't have a BPI credit card yet so that I could apply for this. Sadly, I already have one so I'm definitely not qualified for this promo.
Then I suddenly remember my sister. She's been employed for exactly a year now and has been living on her own since then. After teaching her some basic budgeting tips, I noticed that she has really improved in terms of her finances. Not perfect (as nobody is) but she's a lot more responsible now when it comes to her budget.
I know it's none of my business to check her planner/organizer but I was surprised when I saw her notes on how much she earns, her expenses, bills, and other budgeting-related stuff. She doesn't have debts, at least not that I know of. She has a small investment that I manage. She sends money to our parents in the province for their additional monthly allowance. But there's one thing missing on her notes though, and that's her savings.
She's able to live within her means by only spending on things that she can afford with her budget but she always fails to set aside a portion of her salary for her savings. And that's something that we need to discuss soon to reevaluate her finances. But for a single, 21-year old woman, who's also the youngest among my siblings, I know that she's doing pretty well so far.
Even if I already anticipated what her answer would be, I still asked her if she wants to apply for a credit card. And of course, her answer was a big YES! So I told her about the promo and without delaying her excitement further, we filled out the application form and prepared the requirements. We have yet to submit the application because we're still waiting for her Certificate of Employment from their HR and hopefully she can have it within the week so that we can submit it before the promo ends on September 15, 2014.
I was a little bit worried about her having a new credit card but I believe that it'll help her to be more responsible for herself. She also made a promise that she will be a good credit card holder if her application is approved. And that somehow gives me peace of mind…
If you're also interested to try this opportunity, please check out this link for the complete promo mechanics of the new BPI credit card application. This might be your chance to avail of the Free Annual Fees for Life!
*UPDATE:  1st supplementary card FREE FOR LIFE too!

[hr]
Disclaimer: This post is not an endorsement. I'm not affiliated with BPI and I'm not paid to publish this article. This is for informational purposes only. You are solely responsible for all your decisions and I'm not liable for whatever results this post may bring about in your personal investments. Having a credit card is not for everybody. It's best for those who are financially mature enough to handle credit card responsibilities and obligations.
For more information about BPI credit cards, visit their website or talk to one of their phone bankers directly.
Source Credits: BPI
Comments
comments