I have invested in the stock market, UITF, VUL, bank deposits and even in local coops, but I've never tried investing in mutual funds yet. I've been planning to put a portion of my daughter's educational fund in mutual funds, but I haven't gotten the chance to open an account yet.
I attended the stockholder's meeting with Philequity sometime in 2014 to know more about mutual funds, and I was almost ready to get started, but I later decided to put it in the stock market instead.
I'm still very interested to learn more about mutual funds and I think it's timely because the Philippine Investment Funds Association (PIFA) will be celebrating their Annual Mutual Fund Awareness Week next month and they will conduct free talks on mutual funds on April 9, 2016.
Here are the details…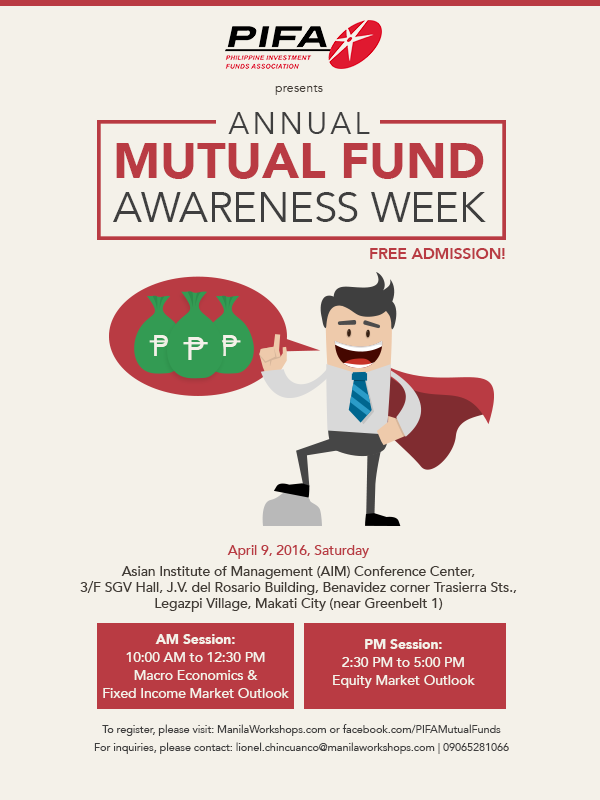 PROGRAM:
AM
10:00 am – 10:30 am : Registration
10:31 am – 11:50 am : Discussion on Macro Economics and Fixed Income Market Outlook
11:51 am – 12:30 pm : Q & A
PM
02:30 pm – 03:00 pm : Registration
03:01 pm – 04:00 pm : Equity Market Outlook
04:01 pm – 05:00 pm : Q & A
VENUE:
Asian Institute of Management (AIM) Conference Center Manila, 3rd Floor SGV Hall, J.V. del Rosario Building, Benavidez cor. Trasierra Sts., Legazpi Village, Makati City.
For inquiries, please contact lionel.chincuanco@manilaworkshops.com / 09065281066
To register, visit http://manilaworkshops.com/events/pifa-mutual-fund-awareness-week-2
If you're also interested to attend this event, feel free to register at the link above.
Admission is FREE.
I will also personally attend this event and I hope to see you there too! 🙂