I have always been fond of attending seminars and workshops even before I became a Workshop / Event Director of Manila Workshops. I like attending seminars because I learn new things plus I get to enhance my skills and even develop new ones. I also get the chance to meet new people and friends. In fact, I first met Ginger, our GM at Manila Workshops, in one of the seminars that I attended last year. Then she became my mentor at the Love the Leap Program, until she offered me this job. 🙂
In one of my recent posts, I shared some of our Upcoming Financial Workshops at Manila Workshops and they all come with a learning fee. Yes, more often than not, we have to invest money for our education and I believe it's a good investment. However, I also do understand that not everybody can afford to attend our seminars. So today, I'd like to share with you some FREE seminars that you might be interested in. Yes, you read it right, they're all FREE! So feel free to share these to your friends as well. 🙂
[hr]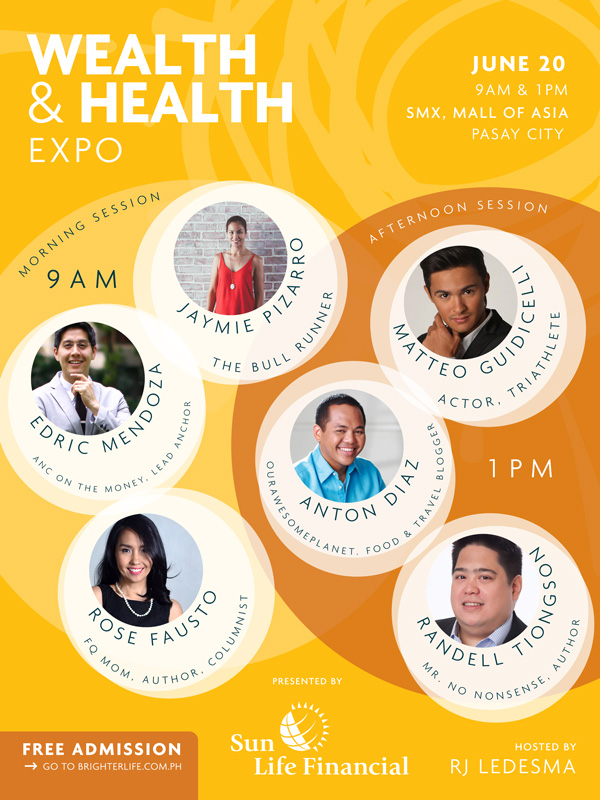 Wealth and Health Expo by Sun Life
SMX Mall of Asia, Pasay City
June 20, 2015 (Saturday)
Morning Session – For Young Couples – 9AM
FREE TO KEEP FIT – Jaymie Pizzaro, The Bull Runner
– Learn how you and your family can keep healthy and stay healthy amidst the hustle and bustle of daily life.
FREE TO BE ME – Edric Mendoza, ANC On the Money, Lead Host
– Learn how to balance your money roles and goals for the family while pursuing your own individuality.
FREE FROM WORRY – Rose Fausto, FQ Mom, Author, Columnist
– Create a shared financial vision and get the entire family on-board to commit those goals.
Afternoon Session – For Millenials –1PM
FREE TO CHASE DREAMS – Matteo Guidicelli, Actor, TriAthlete
– Get tips and tricks on how to start on an active and healthy lifestyle while young.
FREE TO PURSUE PASSIONS – Anton Diaz, Ourawesomeplanet.com, Founder
– Learn how to find your purpose while balancing your many passion pursuits.
FIT FOR THE FUTURE – Randell Tiongson, Mr. No Nonsense, Author
– Learn the benefits of starting young on a financial roadmap to the future by putting a price tag and a deadline to your dreams.
 [hr]

2. ICT Expo 2015
DOST-Information and Communications Technology Office
June 17, 2015 (Wednesday)
9:00 AM – 5:00 PM
Sequoia Hotel, 91-93 Mother Ignacia Avenue, corner Timog Avenue, Quezon City, Philippines
SEMINARS:
Creating and Monetizing Your Freedom Business
Speaker: Marv De Leon, Founder of Freelance Blend
Gusto Kong Magnegosyo … Pero Paano?
Speaker: Roselle Reig, CEO of GlobalKnowledge Ph
How to start a book writing career
Speaker: Krissy Bisda, Writer
How to Be a Successful Freelancer
Speaker: Fitz Villafuerte, Founder of Ready to be Rich blog
  [hr]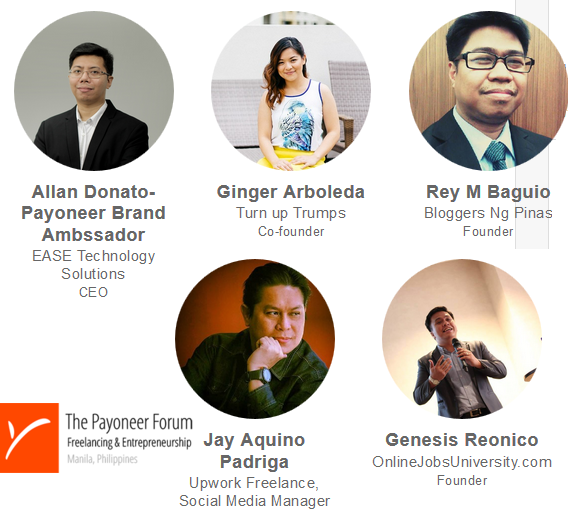 3. The Payoneer Forum – Manila

June 24, 2015 (Wednesday)
1:30 PM – 6:00 PM
Diamond Hotel, Manila
SEMINARS:
Freelancing & Entrepreneurship

– This free event brings together 400+ freelancers, professionals, and entreprenuers to discuss various topics related to business and entrepreneurship in Philippines and worldwide.
Speakers:
Allan Donato – Payoneer Brand Ambassador PH
Genesis Reonico  – Founder of OnlineJobsUniversity.com & Customer Experience Manager of Horsepower.ph 
Jay Aquino Padriga – VP for Luzon Markets & Social Media/Community Manager
Ginger Arboleda – General Manager of Manila Workshops, Blogger & Co-founder of a Tech Startup Company
Rey M. Baguio – Digital Marketing Consultant & Founder of Bloggers Ng Pinas
Marv De Leon, Founder of Freelance Blend
[hr]
4. 1st Bloggers Talk Series: Bloggers Ethics 101 and How to Attract Advertisers
Venue: Freelancer Office, 30th Ecotower 32nd St. cor. 9th Avenue, Fort Bonifacio
Date & Time: June 26, 2015 at 6PM-9PM
Speakers: Azrael Coladilla, Jeoff Solas, Ron Oriel Villagonzalo and Jojy Azurin
– Bloggers ng Pinas, together with ManilaWorkshops.com and Freelancer.com bring you the 1st Bloggers Talk Series.
The topics to be covered for this event will be Bloggers Ethics 101 and How to Attract Advertisers.
The Bloggers Talks Series is aimed to talk about different topics that are relevant to bloggers on how to enhance blogging experience with the community.
[hr]
5. COL Financial – Investor Education
COL Training Center, 24F East Tower, PSE Centre, Exchange Road, Ortigas Center, Pasig City
SEMINARS:
COL Easy Investment Program: Simple Stock Market Investing
– Learn how you can build personal wealth the easy way with COL's EIP. This program introduces the use of cost averaging to make investing in the stock market simple, convenient, and affordable for anyone.
Morning Session – 10:00 am – 11:30 am
Dates –     June 11, and 25, 2015
July 2, 16, and 30, 2015
Afternoon Session – 2:00 pm – 3:30 pm
Dates –    June 1, 5, 8, 15, 19, 22, 26, and 29, 2015
July 3, 6, 10, 13, 17, 20, 24, 27, and 31, 2015          
Investing in the Stock Market Today
– This seminar will introduce the basic concepts and opportunities of investing in the stock market. Popular approaches of stock analysis will be explained to help guide the new investor in making well informed investment decisions. This seminar is for interested market participants, with minimal to no market experience.
Afternoon Session – 2:00 pm – 4:30 pm
Dates –   June 4, 9, 11, 18, 23, and 25, 2015
July 2, 7, 9, 16, 21, 23, and 30, 2015
[hr]
PAST EVENTS

[hr]
5. SME Soft, Inc.
Unit 514 VGP Center, 6772 Ayala Avenue, Makati City
June 13, 2015 (Saturday)
1:00 PM – 4:00 PM
SEMINAR:
The REAL Project Management
– This seminar will discuss the common faults executed in managing projects that results to the common issues and challenges faced by many project managers not knowing REAL Project Management as presented in PMI's PMBOK Guide 5th edition.
– This seminar is sponsored by SMESoft Inc. – the FIRST and only authorized training provider and product distributor of RMC Project Management here in the Philippines.
TO REGISTER, email inquire@smesoft.com.ph
[hr]
I'm actually interested to attend one of the seminars at the ICT Expo 2015, but I'll see if my schedule permits. If I'm available, I might go there and I also hope to see you there! Feel free to approach me if you happen to see and recognize me! 🙂
If you know of other upcoming free seminars, feel free to share it at the comment section below and I'll be glad to add them up on this blog post. Thanks!
Comments
comments