I came across this infographic while browsing on Facebook and I found it interesting so I decided to share it here on my blog.
This is very timely because recently, I've been receiving invites from various friends, colleagues, and even relatives, who happen to be involved in Multi-Level Marketing (MLM) or Direct Selling.
What is Multi-Level Marketing (MLM) and Direct Selling?
According to Wikipedia, Multi-Level Marketing (MLM) is a marketing strategy in which the sales force is compensated not only for sales they generate, but also for the sales of the other salespeople that they recruit. Direct selling, on the other hand, is the marketing and selling of products directly to consumers away from a fixed retail location.
Some of the people I know stay away from MLM and Direct Selling companies because they think that those are scams. Well actually, some are scams, but not all of them. I can't blame these people who believe that these companies are scams because they've probably been scammed before or maybe they knew of someone, like a close friend or a relative, who might have been victims of the so many existing scams right now.
So the BIG question is…
How do we determine if a Direct Selling Company is legitimate or not?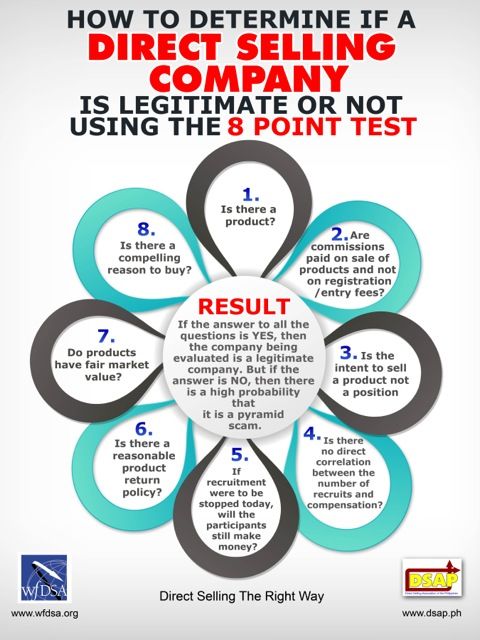 Source: DSAP (Direct Selling Association of the Philippines)
How to differentiate a legitimate direct selling company from pyramiding using the 8-point Test
1. Is there a product?
2. Are commissions paid on sale of products and not on registration/entry fees?
3. Is the intent to sell a product not a position?
4. Is there no direct correlation between the number of recruits and compensation?
5. If recruitment were to be stopped today, will the participants still make money?
6. Is there a reasonable product return policy?
7. Do products have fair market value?
8. Is there a compelling reason to buy?
If the answer to all the questions is YES, then the company being evaluated is a legitimate company.  But if the answer is NO, then there is a high probability that it is a pyramid scam.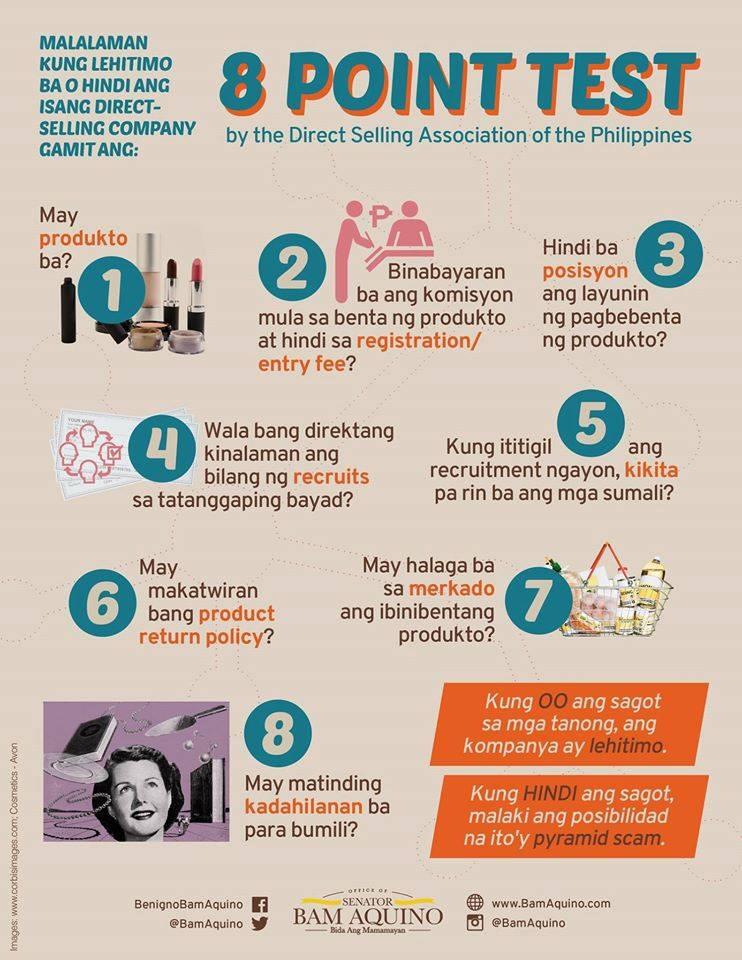 This is the Filipino or Tagalog version of the infographic. (Credits to Sen. Bam Aquino or whoever made this).
Here's also a video about Anti-Pyramiding from the DSAP's website.

 
I hope you found this information helpful.
Feel free to post your thoughts and insights about MLM and scams at the comment section below.