Deals, promos, and group buying websites are everywhere now. It's amazing how these sites can offer huge discounts to customers who purchase products and services through them.
My favorite is Metrodeal. I started buying deals from this group buying site in 2011. At first, I was also skeptical about buying deals online because I was afraid about getting scammed or not getting what I paid for.
I visited various online forums, read reviews from different blogs, and I also asked my friends and colleagues who have experienced buying deals from these group buying sites, particularly with Metrodeal.
While there were positive and negative reviews and opinions about Metrodeal, I still decided to make my first purchase on October 2011. It was a Full Body Massage that cost Php 199 instead of the regular price of Php 649 at 69% discount.
I thought that if I get scammed, it wouldn't hurt much because it was only Php 199. And it was only kind of a test or a trial purchase for me to find out if Metrodeal was really a legitimate site.
After I bought the deal, I printed out the voucher, called the Spa for reservation, and I had my full body massage! Yay, I wasn't scammed! 🙂 And that's when I found out that Metrodeal was really a cool site.
I purchased more deals from Metrodeal after that and I never had any problems with my transactions. The site is very user-friendly. It has many great choices in all its categories from restaurants, exciting activities, salon & beauty, shopping & products, and travel & getaways.
The very first blog post that I published here on Pinay Investor was actually about the a boardgame seminar entitled, Robert Kiyosaki's Cashflow 101, which I purchased from Metrodeal on January 26, 2012 and that's where I first heard about stock market investing. And now I already teach and speak about stock market investing on my blog and in seminars and workshops. Thanks Metrodeal! 🙂

A lot of my purchases are under the salon & beauty category. I've bought several vouchers for Full Body Massage for myself and my family. This is also what I usually give as gifts to my close relatives and friends during Christmas and special occassions. And they love it! Of course I choose the best ones that don't cost much and it's really a huge savings for me. Since it's cheaper than the regular price, I get to buy more (quantity) with the same quality of service.
Aside from massage deals, I'm also a loyal client of Dermcare (even before I discovered Metrodeal) and I have purchased several vouchers of their best selling Diamond Peel Treatments. Sometimes I treat my mom and my sister using these vouchers and they love it too! In fact, the first time I brought my mom to Dermcare, she said that she felt so beautiful after she had her first Diamond Peel Treatment. 🙂

Okay, I think I've shared enough about my Metrodeal experience. But what really is group buying and a group buying site like Metrodeal and why do I choose to purchase deals and promos from these sites?
Group buying, also known as collective buying, offers products and services at significantly reduced prices on the condition that a minimum number of buyers would make the purchase. (Source)
Through these group buying sites, like Metrodeal, customers can get discounts of up to 90%. In most cases, these deals and promos are exclusively offered through these sites, and more often than not, they're not available in the stores.
Why do I purchase deals from these group buying sites?
Obviously, it's because of the huge discounts! If I can get the same quality of service at a much lower price, then there's no reason I wouldn't purchase it through Metrodeal and other group buying sites.
Here's an example.
Like I mentioned earlier, even before I learned about Metrodeal, I was already a regular client of Dermcare. And during that time, I would pay Php 900 for every session of their Diamond Peel Treatment. Now with Metrodeal's voucher of the same treatment from Dermcare, I only pay Php 299 for each session. That's only one-third of what I used to pay, which means I get to save more than 60% of the regular price. Isn't that a huge discount? Apparently, it is!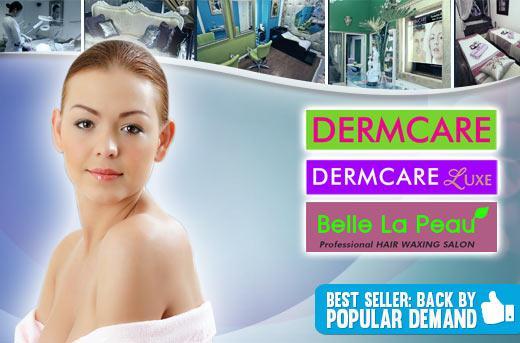 Now, go ahead and visit www.metrodeal.com. See if there's a deal that catches your attention. But… (yes, here's a but!) Don't buy yet!
Before you click that Buy Now button, make sure that you check all the details first – the Highlights, the Fine Print, the Branches or Locations where that particular product or service is sold at or is available for redemption, or better yet, call the store to confirm the availability of that deal or offer.
The deal may look too good to be true, and it maybe is, but you wouldn't want to redeem it from a store that's way too far from your place. It wouldn't be worth your money unless you're really craving for it or that you won't be able to sleep until you finally have it. 🙂

I hope this blog post helps in your decision whether to buy deals or not from Metrodeal. I may have a good experience with this group buying site but it's always a good practice to do your due diligence before you buy anything online. Research, read reviews, and take responsibility for all your decisions and actions.
[hr]
Photo Credits: Metrodeal

Comments
comments