Hey! How are you?
As we all know, the month of May has just ended, and June has just said hello!
I hope everything's well for each and every reader of this blog. 🙂
I just want to share with you a little bit about what happened to me in May.
May is actually my birthday month. I hate to admit it, but yeah, I just turned 30!
Thank you for your greetings, I appreciate it! 🙂
And because some people say life begins at 30, here I am, trying to map out my plans, goals, and everything that I want to achieve: short, mid, and long term.
I hope you don't mind me making kwento. 🙂
Early in February this year, I went to the mall with my sister. As soon as we entered the mall, we saw this red car on display and the sales guy approached us and gave us some flyers.
I checked out the features and I even went inside the car and I said to my sister,
"I'm gonna have this car on or before my 30th birthday!"
And my sister laughed and said, "Go! Push mo yan 'te!", while taking a video of me.
When I said that "declaration" to my sister, it was actually half-meant. I've been dreaming to have my first brand new car, but I knew that it was not possible at that moment because I didn't have the resources.
But at the back of my mind, I thought, "Why not? If you want it, go for it, work for it!"
When I got home, back to normal life again, and forgot about that dream.
Last week of Feb, I attended a 3-day intensive seminar about Millionaire Mindset. It was the first time that MMI was held in Manila so I was really excited and it inspired me so much to push for my dream.
Many things happened after that.
And my birthday was fast approaching. I wanted to have my brand new red car on or before my 30th birthday, but I didn't know how…
There were some things that really helped me in the process of achieving that dream.
One of the things I've learned from the Millionaire Mind Intensive Seminar was that, if you want to achieve something, think and feel as if it's already yours. If it's your dream car, think as if you're already driving it or maybe you're looking at it right now in the garage.
Another thing was, if you want something, have it! You don't need to know how. Do your thing and the universe will give you what you desire! (Sorry, it may sound weird to you, but promise, if you're at the MMI, you'd sure understand what I'm talking about 🙂 )
I also learned how to meditate. I prayed harder and made a devotion to St. Jude Thaddeus.
I worked harder and smarter.
I did affirmation and visualization.  I have a picture of a red car almost everywhere in the house – on my vision boards in our room and at my working area, on my phone and computer's wallpaper, on my journal, calendar, my baby's room.. yes, it's everywhere!
Even if you ask my little girl, she knows it and she'd tell you, "it's mommy's red car!" 🙂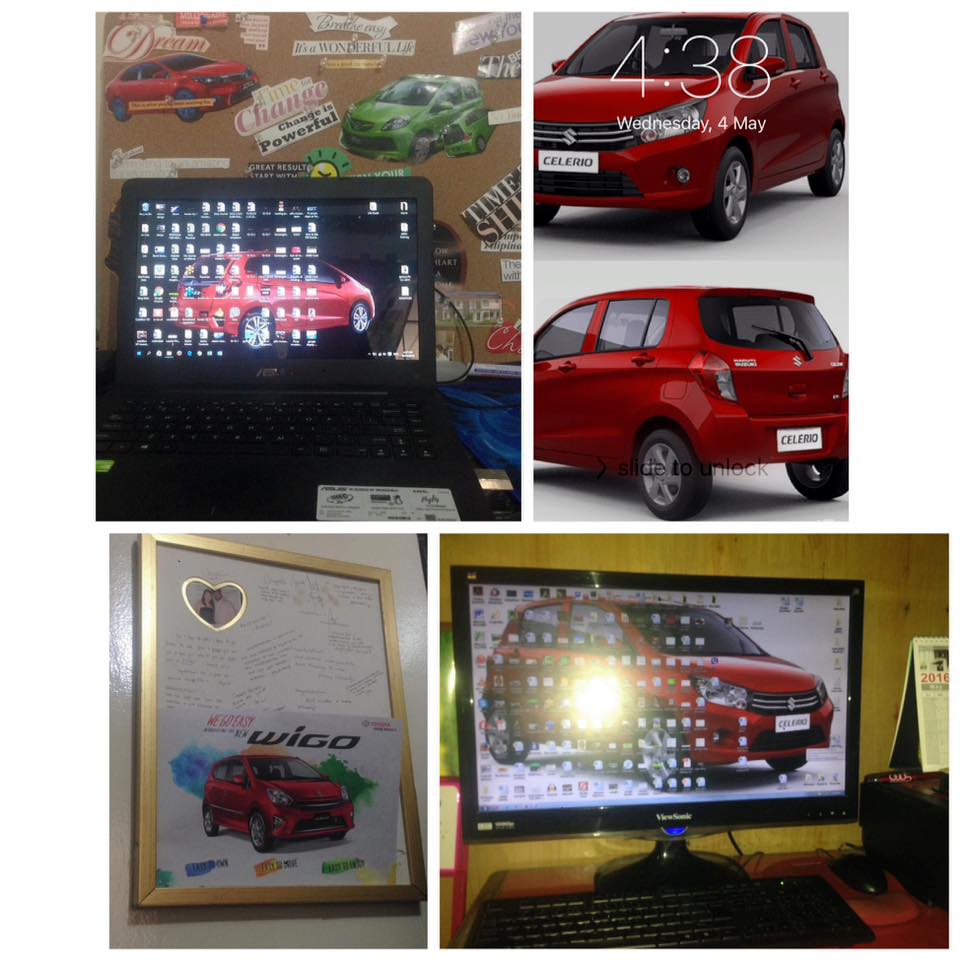 I would always tell my husband that I will have my first brand new red car on or before my birthday, and my husband will just always say, "Okay, good luck! Go for it, mommy!" And sometimes I know he's just "napipilitan" kasi I'm so makulit at paulit-ulit." 🙂
(Oh by the way, the green car on my vision board, it's actually my husband's cut-out. He was trying to make fun of me and he said he wants to have his cute car too. I didn't want it displayed on my vision board, but he insisted, that's why it's there 🙂 )
Sometimes, I'd ask him to go with me to the car center / show rooms to check out the models and rates. Then I started to compute numbers in my head.
My husband, some relatives, and friends gave me different ideas of the cars that I may want to consider. There was a time that I didn't know what to pick anymore. My husband was giving me different suggestions and I felt so confused already.
But in one of the resources that I've read, it said that if you want to achieve something, you have to be specific and realistic. Your goal has to be SMART – specific, measurable, attainable, realistic, and time-bound. And since it's your goal, you have the final say, not your husband, sister or not even your closest of friends.
I initially wanted to have a Toyota Vios or Honda Jazz, but I knew that it was beyond my current resources. So we tried to find a car that I think I can afford, without sacrificing other important things.
When my husband said that he found a car that fits my requirements, we hurriedly went to the car dealer and the first time I saw it, I fell in love with it already. I knew it was it. I knew I was gonna have it on or before my birthday.
We started processing our application papers. We contacted a few other agents trying to find the best deal.
3 days, 2 days, 1 day before my birthday..
No confirmation from the banks and the sales agents that we have spoken with…
Finally one of the agents got the courage to tell me that my car loan application was disapproved (no reason stated).
I felt a bit hopeless, but I said, "God, if you will it, I know I can have it no matter what."
But I was completely open to accept it if it wasn't meant to be mine yet on or before my birthday. I believe in God's perfect timing and I am willing to wait.
May 6…  Happy birthday to me!
I woke up very early, thanking God for the gift of life and for all the blessings that I have received and that I have yet to receive.
I surrendered to God all my dreams and plans, because I believe that His are way better than mine. (Nothing compares.)
And I said, "Lord, if you believe that I deserve to have one of my dreams come true today, and if it pleases you, then may Your Will be done."
I ended my prayer, feeling happy, content, and excited!
I went to my daughter's room, hugged and kissed her while still sleeping, and suddenly my phone rang.
"Ma'am, approved na po car application nyo! Happy birthday! Pwede nyo na po kunin car nyo today!"
I'm sure you already have an idea of how I felt when I heard the good news. And I still am teary-eyed (with goose bumps) because of excitement and joy as I write this…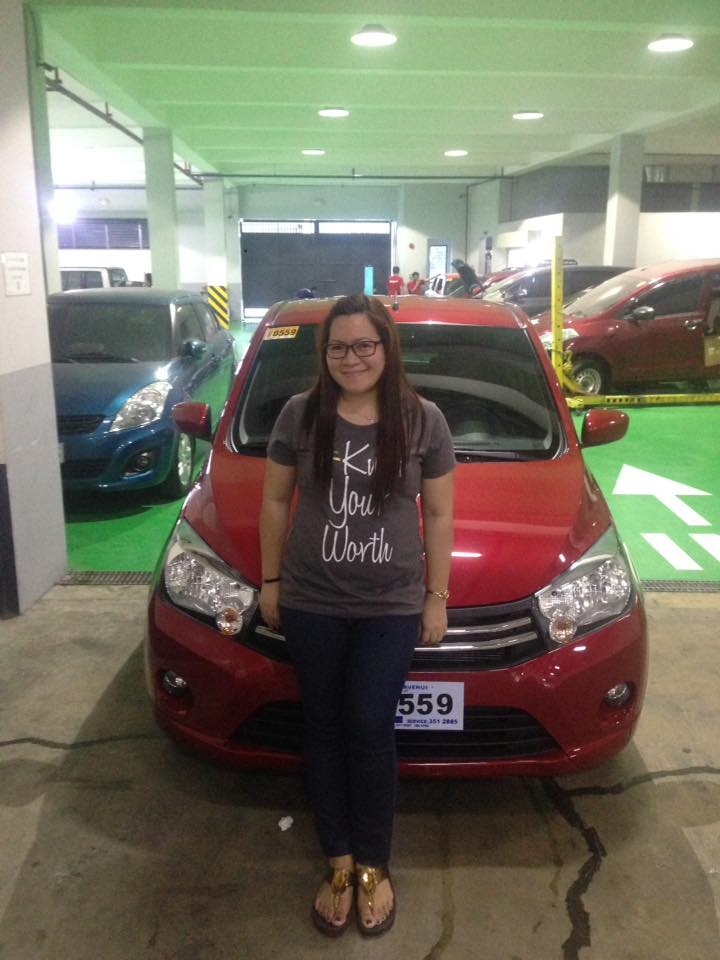 Truly, God never fails if you surrender and believe in Him. Nothing is impossible.
But God can only do so much.
Any goal, no matter how big or small, will remain a goal, if you don't take action.
This is just the beginning. I know there's more to come. And I will always be grateful for whatever God has in store for me.
I hope you enjoyed reading my story. Let me know what you think about my experience. 🙂
Comments
comments