During the "Insta-Speak: Say What You Need to Say in 2 Minutes!" workshop, Gayo (the speaker) picked three numbers from the list of attendees who will join the Q&A portion of the "Ms. Universe Pageant". (Un-)Luckily, I was one of them! I really didn't want to join but I had no choice, my name was picked. So I just pretended like I was really part of the Top 3 finalists of the pageant. 🙂

Btw, this is the second part of this post. To read the first part, click this – How I Turned my Embarrassment into Motivation.
My question was…
"If there's one thing in your body that you'd like to change, what would it be and why?"
I wanted to say, "Oh, thank you so much for that very nice question!", but I dared not. 🙂

I was given five seconds to prepare and in my mind, I said, if there's one thing I'd like to change in my body, it would be my figure. I didn't even know if it was an appropriate answer, but what I was thinking was that I wanted to be thinner than what I am now. I feel so fat and I really want to lose weight and hopefully go back to my shape before I got pregnant.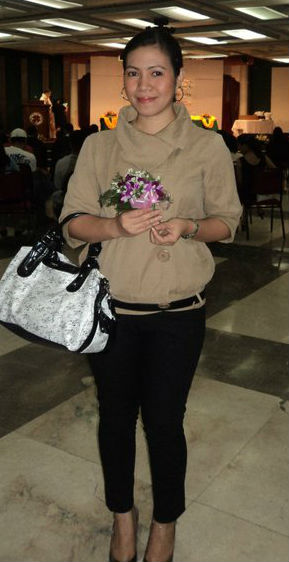 The five-second preparation was over so here was my final answer…
"If there's one thing that I'd like to change in my body, it would be my figure. I've always wanted to be a speaker in seminars or a host in various events, but aside from my regional accent, my current figure (or being overweight) is holding me back from speaking or hosting. I'm not confident about myself and I feel like people would look at how badly I look like instead of how well I speak. That's why if there's one thing that I'd like to change in my body, it would be my figure or shape."
Yes, that's exactly what I said during the Q&A. My God, I've never felt so nervous as I speak in front of other people! Maybe because I knew that my friend, Gayo (the speaker), and Ginger, my boss, were listening and looking at me while I was answering. 🙂

Unfortunately, no one won! Haha. I don't know if Gayo just forgot to announce the winner or if she really had no intention to choose one. But I was surprised when Michelle, one of my colleagues at MW and Gayo herself, told me that I looked confident without any hint of nervousness while I was speaking. They said that I delivered my answer very well and that it was a good start to being a speaker.
Wow,really!? 🙂 I'm flattered! You really are my friends! 🙂

But seriously, thank you for the affirmations. You've somehow managed to boost my confidence in speaking.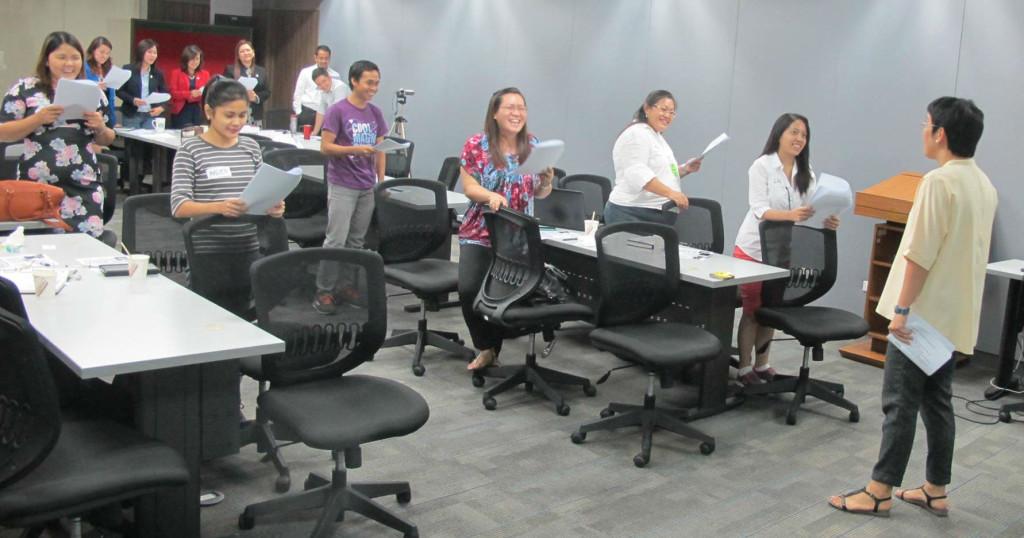 We had a few other interactive and fun activities during the workshop before we had our last impromptu Q&A, where everyone was given a chance to speak in front.
And here was my question…
"What motivates you?"
The very first thing that came to my mind was the motivation that I get from the readers, followers, and subscribers of Pinay Investor, both this blog and my YouTube Channel.
And here was my answer…
"It motivates me when people tell me or thank me for the value that they got from me. It could be from the post that I've published here on my blog, or a video tutorial that I shared on YouTube, or some of the services that I offer, or even just as simple as the quote that I've shared on social media, that has somehow inspired them or made an impact in their life or their current situation."
Most of the time I'm motivated to write on this blog or publish video tutorials, however, there are also a few times when I feel like I haven't accomplished enough, or that I'm simply not good enough, or at least not as good as I should be, and I just feel like quitting or giving up. When these happen, I simply go back to what my readers say about me or the values that they got, and it brings the fire back, and it motivates me to pursue my goals, to continue what I'm doing, and to give more value for my readers and subscribers.
Let me share with you some of the emails and comments that I received from my readers and followers, which are some of the reasons why Pinay Investor still exists…
"Hi Janice, my name is Mark, an OFW from Qatar. I stumbled upon one of your article today and I got interested immediately from your blog. Thank you for sharing what you've learned. I wish you all success in your career and keep on sharing new things to us regarding financial literacy."
"Hi! my name is Jill. I'm glad I saw your blog and I got inspired and I learned a lot from it. I got interested to read your blogs because I'm also searching about stocks and mutual funds. I really like you blog, very informative. I just want to thank you lang po. I'm looking forward na makatulong din sa ibang nag aaspire mag freelance esp our friends in the BPO industry. You are a blessing to your readers. Keep on inspiring other women through your blog posts.May you be blessed even more!"
"Your tips and Videos are helpful. Thanks very much Mam. God Bless."- Tim
To all of you who give positive feedback and comments, thank you for your continued support for Pinay Investor. Thank you for believing in me and in what I'm capable of doing and becoming. To all of you who give negative feedbacks, thank you as well. I don't consider it negative, but rather constructive. Thanks for letting me know of my mistakes and shortcomings, because that motivates me to do better and push further.
And above all, I thank God and my family for keeping me motivated…
Comments
comments