I've been working with Marvin Germo for half a year now and it's always a privilege to work with this super smart and humble man. Not only do I learn different strategies in stock market investing, but also strategies that I can apply in real life situations. I also shared more of my experiences working with Marvin in this POST, which I've written a few months ago.
So who is Marvin Germo?
Marvin Germo is a Registered Financial Planner, an author and a keynote speaker. He is an Entrepreneur and an International Financial Resource Speaker, who out of his eager desire to make an impact in this nation has spoken in different spheres of society – corporations, government agencies, churches, schools, clubs, organizations, and numerous public events.
His ability to break down complicated investment concepts and translate it into something that is simple, basic and understandable has made him one of the most sought after money speakers in the land. He has been interviewed by Studio 23, GMA7, GMA News TV, TV 5, PTV 4, UNTV, Tele Radyo, The ABS-CBN News Channel, 99.5 Play FM, 702 DZAS, 94.7 Mellow, 1067 Energy FM, Entrepreneur Magazine, Manila Bulletin, and Metro Magazine with regards to his skills in investing particularly in the stock market.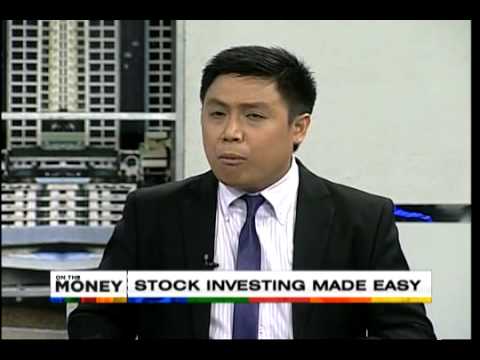 Marvin is the Brand Ambassador of BPI Trade and currently the stock market investment columnist for both Moneysense Magazine and BusinessMirror. He also owns www.marvingermo.com, which is one of the most informative financial planning websites in the Philippines.
He has already published three books and all of them are performing very well in terms of sales and positive feedbacks. These books are entitled, Stock Smarts: Stock Investing Made Easy; Winning Strategies for Investing; and Stress-Free Investing. You may click HERE if you're interested to order any of these books.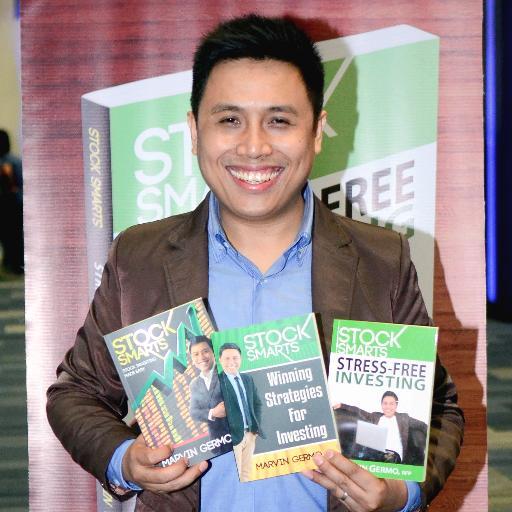 He graduated from Mapua Institute of Technology with a Bachelor of Science in Electronics & Communications. He completed the Registered Financial Planners Institute (RFPI) in the Philippines and the Philippine Stock Exchange (PSE) Certified Specialist Course in the Ateneo Center for Continuing Education.
With his over six years of experience in the Philippine financial industry, his energy and zeal to educate the Filipino people has translated into transformed lives, financially free families and has transformed ordinary consumers into investors.
"To put it simply, I love helping people manage and plan their cash flow. It is my passion to help Filipinos, from different social classes and backgrounds, for them to be more equipped in their finances and help them towards their goal of financial freedom."- Marvin Germo
This July 18 and August 1, 2015, Marvin Germo, in partnership with Manila Workshops, will have the third run of the Stock Smarts Workshops Series in Manila. This time, the focus of these workshops is Technical Analysis, thus it's entitled, the "Comprehensive Technical Analysis Course", which comprises of four modules: one module per session and the learning rate per session is Php 3,000.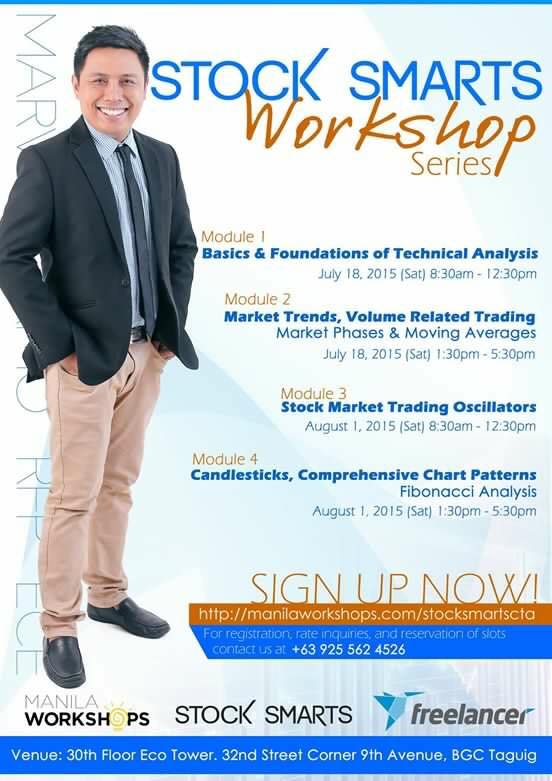 Why You Should Attend the Comprehensive Technical Analysis Workshops?
With Marvin Germo's several years of experience in the stock market and being one of the country's most popular financial experts, we assure you that you'll get your money's worth by investing on these seminars.

We came up with these workshops to grant our kababayans who have been requesting to have a comprehensive workshop on technical analysis that will tackle topics like trend lines, support and resistance levels, chart patterns, chart oscillators, indicators and so much more — All with the goal to help you develop various strategies on how to find the perfect timing in buying and selling stocks.
We should also know that the stock market is a risky type of investment and that you should only invest the money that you're willing to lose. But with proper knowledge on Technical Analysis, you'll be able to apply strategies that will help you maximize your gains and minimize your losses in the stock market.
For more info about the Stock Smarts workshops, please visit this LINK.
For questions and inquiries, feel free to post it on the comment section below or send me a private message HERE.
We hope to see you on July 18 and August 1 as we are eager to see more and more Filipinos invest in the stock market and take advantage of our booming economy. Happy investing! 🙂

[hr]

Photo Credits: Marvin Germo
Comments
comments