BPI Express Deposit Machine – The Easiest Way to Deposit Cash Real-Time!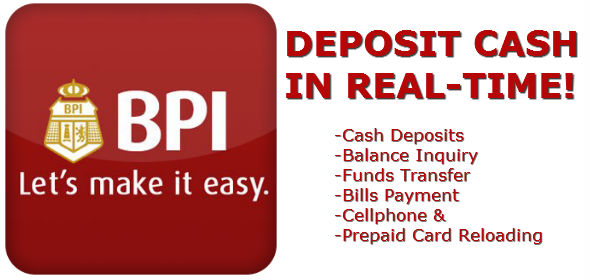 On my post yesterday, I talked about my sister who's been asking me to apply for a credit card for her. Today, I will talk about my brother who is already a supplementary card holder with one of my credit cards.
I don't have problems with him being a credit card holder because he's responsible and he knows how to manage it.
He uses his credit card mainly to purchase grocery items for their mini grocery store. At first he didn't want to use it because he doesn't know how it works and he's afraid with the word "credit." He doesn't want to have debts. Besides, he has cash to use for his purchases.
I explained to him the advantages of having a credit card but I only emphasized the perks and freebies that we get to avail when we use the card to purchase for a certain amount. Plus the additional points that I get from all the purchases made both from my primary card and my supplementary. (But that's not really important unless I already have a lot of points which can be used to purchase certain items or to pay for my  annual membership fee). I also learned recently about this "credit rating" thing when we own a credit card which can be beneficial for some other purposes. (I will try to discuss more about this soon).
Aside from his grocery items purchases, he has also used it to purchase some of their home appliances. And I'm glad that he's able to manage his credit card obligations even for installment payments. He has never missed any payment ever since he got his card.
He already gets the "hang of having a credit card" and he's been a good payer. He's also been enjoying the perks and freebies from his purchases like the treats from pizza hut, jollibee, greenwich, and now it's chowking.
As what we've agreed upon before I gave him his credit card, he will use it to pay his purchases, then deposit his cash payment to my savings account within the day or the week, and I will be the one to pay the credit card bills online. And of course, he avails of the perks. It sounds simple, doesn't it?
However, even if he has money to pay for his purchases, depositing it to my account becomes an issue to him. He would always complain about the long lines in the banks and the long wait is such a waste of time for him. And oftentimes, he would rather come to our house and hand me his payment personally.
But that's not what I wanted to happen. Because if he gives me his payment, it's like he's passing to me the burden of the long lines and the long wait when depositing in the banks. Don't you agree?
But thanks goodness that there's this BPI Express Deposit Machine. It's made it a lot easier for me (and now for my brother) to deposit to my account without the hustle and bustle of lining up and waiting too long for my number to be flashed on their queue screen.
I've been using the BPI Express Deposit Machine for almost two years now. It's really convenient and this is the reason why I also want to share it with you…
The Express Deposit Machine is an online deposit facility for BPI, BPI Family Savings Bank and BPI Direct cardholders which allows actual cash deposit with real-time credit to account.
Here's a list of what we can do and take advantage of with this machine:
Deposit your cash any time, real time.

Deposit your cash without the assistance of a branch teller!

This machine accepts cash in P100, P500 and P1000 denominations and is credited to your account IN AN INSTANT.

As proof of your Express Deposit transaction, you get a transaction receipt.

No forms to fill up. No need to put your cash in an envelope.

Use BPI Express Deposit Machine to do your cash deposit transaction 24 hours a day, 7 days a week.
To make a deposit transaction is easy. Follow these simple steps.

Deposit – When this key is pressed, the machine will proceed with the deposit transaction.
Return – When this key is pressed, all cash will be ejected from the reject unit slot.
Add Cash – When this key is pressed, it allows customers to add bills to the deposit transaction.
Aside from real-time deposits, the BPI Express Deposit Machine can also provide the following services but PIN is required for all these transactions.
Balance Inquiry

Funds Transfer

Bills Payment

Prepaid Cellphone Reloading (Globe and Touch Mobile)

Prepaid Card / Express Cash Reloading
Please also make sure that you know the type of account you have – whether it's BPI, BPI Direct, or BPI Family Savings. You may not be able to deposit successfully to your BPI Direct Account if you're using the BPI Family Savings Express Deposit Machine. It happened to me once and I don't want it to happen to you. 🙂
Another thing is, this BPI Express Deposit Machine is different from the BPI Express Teller Machine that requires an envelope for deposits. And it's not credited to the account real-time.
Lastly, for cardless transactions, it's the card number that you need to enter, NOT the account number.
Hope this helps…
To know more about BPI Express Deposit Machines, click and visit the links below:
Learn more about BPI's Express Deposit Machines
How to make an Express Deposit without your ATM Card
Where to Find BPI Express Deposit Machine
Where to Find BPI Express Deposit Machines which accept Cardless Transactions
Disclaimer: This article is for informational purposes only. This is not an endorsement and I'm not paid to publish this post. For more details about BPI Express Deposit Machines, you may contact BPI directly.