Am I ready to become a Registered Financial Planner (RFP)?
Exactly a month ago, I attended RFP's free info-session at their office in Ortigas. I learned about RFP at the Money Summit and Wealth Expo 2014 when I came across their booth. I signed up on their guest sheet and the staff shared a little bit about RFP and its program.
Two weeks later, I received an email from one of their staff inviting me to attend their free info session. It was initially scheduled on July 17 but was moved to July 24 due to typhoon Glenda. Without thinking twice, I accepted their invitation and confirmed my attendance.
Even before Money Summit, I was already hearing about RFP from some of my favorite finance bloggers. But the only thing I knew about it was that it's attached as a suffix right after the name just like PhD for Doctor of Philosophy, MD for Doctor of Medicine, and RN for Registered Nurse. And RFP was new to me that's why I confirmed to attend the RFP info session to know more about it.
I reached the venue and registered at 6:45PM but the session started at exactly 7:30PM. The speaker was Mr. Henry Ong, the director of RFP.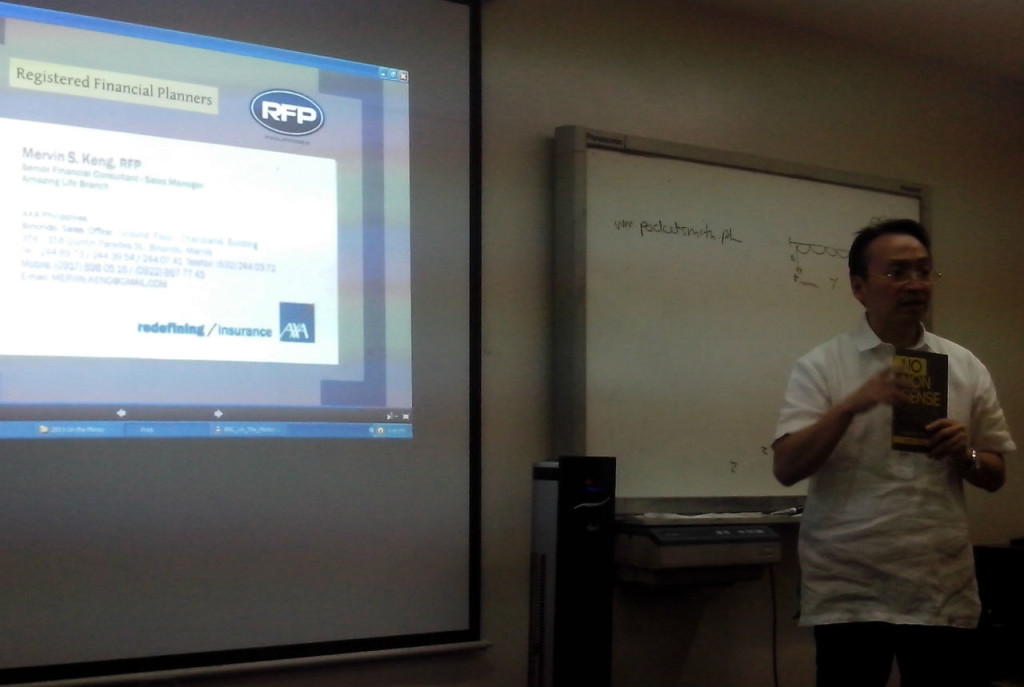 Let me share to you what I learned from the session…
A lot of people go through financial issues and challenges. And I admit I'm one of them. Lucky you if you have not experienced any issues related to money or finance. But what is it really that causes these issues and failures?
Failures happen not because we didn't plan to fail, but because we failed to plan. And I guess one of the reasons of this are the various misconceptions about finance.
Some people believe that they don't need to plan because they're already earning much or that they already have enough. But the truth is, the more you earn, the more you need financial planning to secure and preserve your money and resources.
A good example of this are the lotto jackpot winners. They're are so lucky to have gotten a 'one time big time' chance. But what happened to most of them? They went back to their old way of living or even went bankrupt and left with debts because they failed to plan. They didn't know what to do with their money that's why they spent it on just whatever they like even for things that aren't necessary.
Another thing is, some people wait for financial crisis to happen before creating a financial plan. I guess most of us can relate to this. Sometimes we spend on things that we want even if they're not necessarily what we need. We buy the latest gadget or cellphone with quad core processor, 32 gig memory, and retina display. But do we really need it? Maybe yes, maybe not. Then what happens next? We end up regretting why we bought it when we can still use the not-so-old one that we have. And now we are struggling just to make both ends meet.
I'm not saying be hard to yourself. Of course you can buy the latest, the grandest and even the most expensive thing in the world if you want to. But the first question is, can you afford it? Second, can you afford it without you having to go on "diet" for a few days or weeks just to cut on your expenses because you fall short on your budget?  If your answer is YES then go ahead and buy it. I'm sure you'll be very happy to have it.
The Registered Financial Planners (RFP) Philippines is an independent self-regulatory professional organization offering education and membership in the financial planning field. Its mission is to promote professionalism in practice of financial planning. (Source: http://www.rfp.ph/)
They offer the Registered Financial Planner (RFP) Program to individuals who want to acquire the expertise necessary to be a practitioner in the personal financial planning industry. It also aims to enhance your knowledge and build on the experience you already have in the financial services industry and broaden your opportunities by networking with other financial service professionals.
After knowing all these, I thought that it would be a good opportunity for me to expand my financial knowledge by taking this program. Not only will it help me achieve my financial goals (hopefully) but also help others by promoting financial literacy.
The RFP Program is good for 8 weeks (8 consecutive Saturdays). Application for Batch 42 was ongoing when we attended the info-session and Mr. Ong offered an exclusive special discount for us. The fee for this program is a little expensive but I know it's worth an investment in education.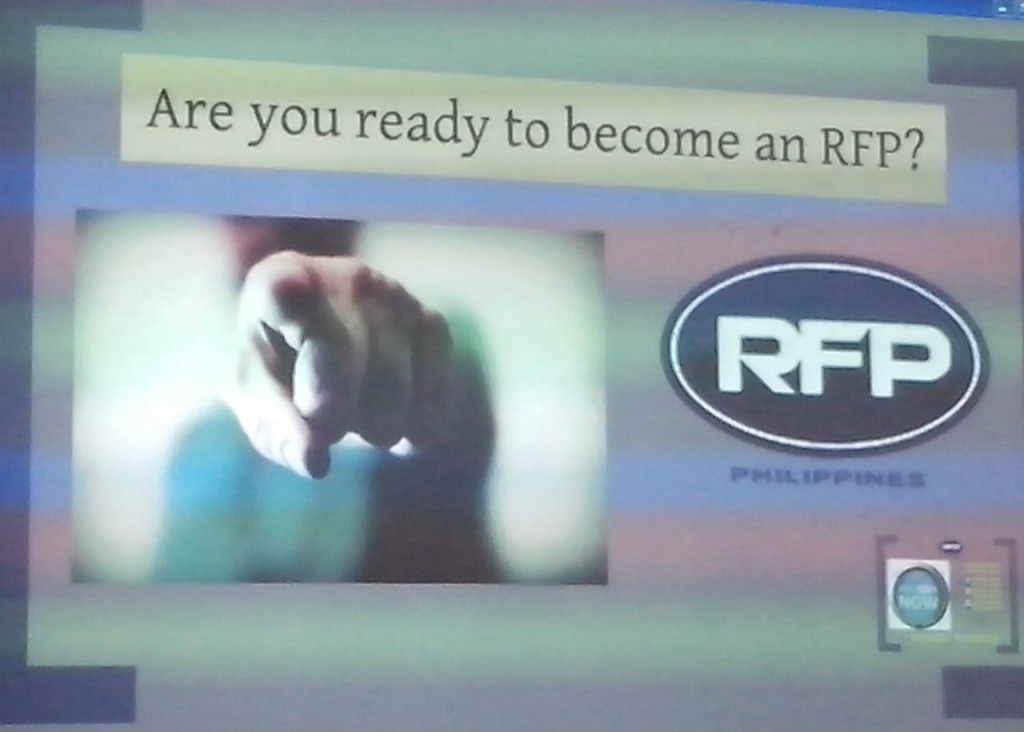 I'm very interested to join RFP but due to having limited funds and considering other priorities, I wasn't able to join Batch 42 which started yesterday. But I'm not closing my doors to this opportunity. If the right time comes, I will definitely join RFP and I will be honored to be called "Registered Financial Planner" with the suffix RFP attached to my name. 🙂
Credits: RFP Philippines