Andrew Stotz shares his Investing Principles in the Philippines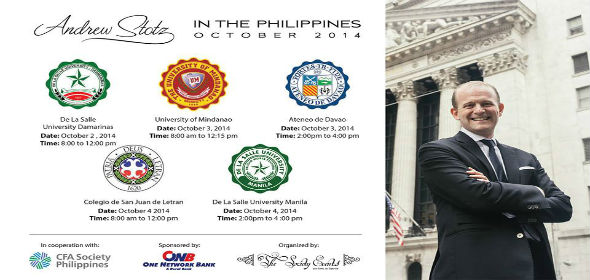 I was surprised when I received an email yesterday from Ms. Rizchelle Sampang-Manaog of the CFA Society of the Philippines. She said that she came across my Pinay Investor website while digging articles about Andrew Stotz.
I knew I haven't written an article about Mr. Andrew Stotz but I already met him when I attended the Philippine Retail Investment Conference (PRIC) last May 28, 2014. Then I remembered that I posted a photo of him on my Photo Gallery page which might have led Ms. Rizchelle to this site.
Anyway, she asked me if I would be interested to write a blog about Mr. Andrew Stotz or schedule a one-on-one interview with him at 3PM today, October 1, 2014.
I didn't know what to say. I was surprised! 🙂

I'd love to write a post about him but having an interview with someone like him, someone who I look up to in the world of investing, is something that I've never expected or even thought of happening. I mean it's a great opportunity for me and for Pinay Investor and it would be an honor to interview him but I felt that I'm unprepared. 🙂

Ms. Rizchelle only contacted me yesterday and the interview with Mr. Stotz is scheduled today and I was just overwhelmed with the turn of events. 🙂 And because I also have another appointment set today, I had to decline to the invite and I wished there's another opportunity like this next time. But I promised to write a post about him and so here it is…
Mr. Andrew Stotz is the current President of the CFA (Chartered Financial Analysts) Society of Thailand. He is an award-winning financial analyst and Investing-in-Asia expert who has spent more than 20 years analyzing and investing in Asian stock markets. Through his work, teaching, and consulting he has helped thousands of people move closer to their financial goals.
Like I said earlier, I first met him at the Philippine Retail Investment Conference where he personally handed me this small piece of index paper with his Info Card. This piece is valuable to me because this is where I wrote my first Financial Plan with the guidance of Mr. Stotz himself.

The photo is blurry but here's what's written here.
I, JANICE, will NOT get rich in the stock market.

I am 28 years old, want to retire when I am 50 and will live a happy life until 100.

My investing horizon is 20.

My retirement horizon is ___.

I will manage my money for the next 70 years.
This is an example of a Written Financial Plan that we (participants) copied from Mr. Stotz. We filled in the blank spaces and we did some computations to come up with the numbers. I don't remember why it's blank on the second to the last line. Maybe I failed to compute for the correct number. 🙂

I also remember that he facilitated an interactive game before his talk, where each of us used a 1-peso coin. I wished I won but I didn't, thus I missed the free financial consultation with him. 🙁

Aside from the written Financial Plan, I also learned about his Core Investing Principles:
You will not get rich in the stock market

Have a written plan

Time horizon is very long, build wealth carefully

Time is the easiest way to success in the stock market

As you get older, reduce your exposure to stocks

Every interaction with money causes emotional and biological changes in your body

Reducing risk is more valuable than picking winners

The past and present are more important and knowable than the future

Have no "memory" about any stock, be willing to buy it again

Stay concentrated, avoid owning less than 10 stocks or more than 20

Be most worried about stocks when everyone is positive about them

Don't get stuck in any one style (value, growth, etc) or guessing when styles shift

Think of each investment as relative to another
I'm a newbie in stock market investing but I'm continuously learning by following principles like these of Mr. Stotz.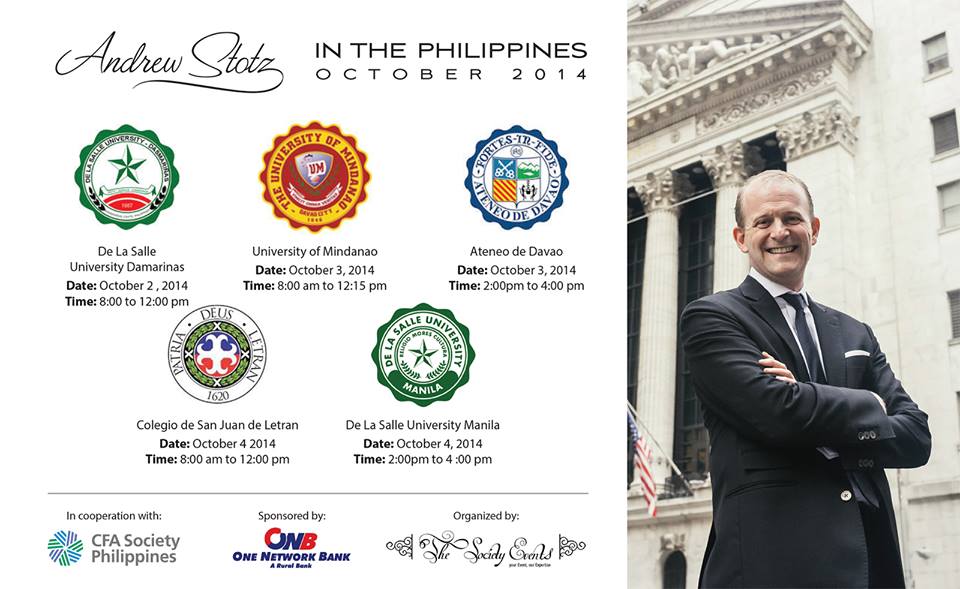 We're privileged because he's currently in the Philippines for his #StotzOnCampusTour, to conduct a series of speeches in some universities to introduce his Principles for a Lifetime of Investing.  The schools that he will visit are De La Salle University-Dasmarinas, University of Mindanao, Ateneo de Davao University, Colegio de San Juan de Letran, and De La Salle University-Manila.
The financial world is totally overwhelming for most people, particularly those with no experience or interest in the area that's why Mr. Stotz developed these principles to make it easier for us to follow and implement. His more than 20 years of experience in teaching finance at universities, in addition to his full-time job as a financial analyst, makes him perfect placed for this task.
These outreach efforts of Mr. Stotz is a great opportunity for us especially the students who will be equipped with a new hope and a clear path toward managing their own financial lives. And crucially, they will have in their hands a simple financial plan that they can follow for the rest of their lives.
Mr. Stotz has also been interviewed by Ms. Salve Duplito of ABS-CBN's News Channel (ANC) "On The Money" program and I can't wait to see that episode. 🙂
It's with a heavy heart that I missed the opportunity to see and interview Mr. Stotz but I support him in his efforts to teach investing principles to Filipinos especially the students who will be the next leaders of the country.
Thank you Mr. Andrew Stotz and I hope to see you again soon! 🙂
Source:
Veteran of the Financial World Shares His Investment Tips in the Philippines (shared by Ms. Rizchelle Sampang-Manaog of the CFA Society Philippines)
http://www.linkedin.com/in/andrewstotz
http://andrewstotz.com
http://www.slideshare.net/andrewstotz/investing-core-principles-at-pric2014