Club Ultima Gift Certificate: Crown Regency Hotel Booking Issues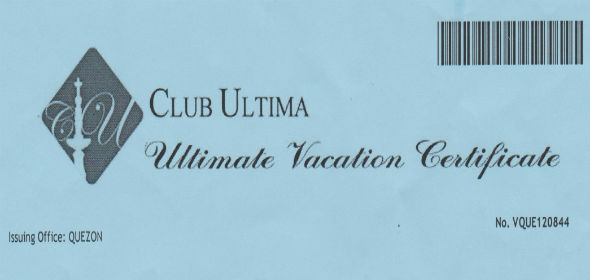 This is the second part of my Club Ultima experience. I suggest you click HERE first to read the first part.
Okay, so I finally got my gift certificate for a 3D2N stay in Crown Regency Hotel cared of Club Ultima. It was a good timing because I and my family were planning to go to Cebu that time for a short vacation, and I knew that there's Crown Regency in the city.
In this post, I'll share with your our email conversation with one of the staff from Club Ultima. I won't disclose her name here, but if you want to know her, just post a comment below or fill out the contact form.
ME: (7/1/2014)
I went to Club Ultima / Crown Regency Westlife Bldg, West Ave, Quezon City branch last night. They gave me the gift cert for 3 days and 2 nights stay.
I would like to know how much would it cost if I book a reservation for Cebu Crown Regency Hotel and Towers on July 12-14, 2014. Attached is the scanned copy of the gift certificate.
CLUB ULTIMA: (7/2/2014)
If you will book using the gc attached, there's a Php3,000 booking fee as stated at the gift certifcate. However, we don't have available room on June 12-14, 2014 at Crown Regency Hotel & Towers.
Thank you.
ME: (7/2/2014)
I'm willing to pay for the booking fee of P3,000 just to avail this gift certificate. I don't get the point of giving away these certificates if we cannot use it. When they invited us to their office to claim this gift, they never mentioned that there's a booking fee. They said this 3D2N stay was absolutely FREE. I was surprised when they wrote in the cert that there's still such fee. Why is that so? Because I did not sign up for the membership? That's unfair. First of all, I did not ask for this gift. They called me several times and convinced me to claim this. And even with a busy schedule, I spared time just to go to their office and claim it.

When I got there, I listened to their presentation. I treated them well and with respect. I searched for this scheme on the internet before I headed over to their office. And I found so many negative posts, blogs, and comments about this. I don't know if you're aware of that… You should be because these will definitely affect your business.
But again, even if I already had an idea of what's going to happen, I still allotted my time. I wanted to know and experience it first hand so I went there. I was hoping it will be different. I was hoping that all the negative comments about club ultima were all wrong. And I was hoping that I would be the first blogger/writer who would write positive posts/comments/reviews about Club Ultima and Crown Regency.
With all honesty, the presentation went well. The 'officer' who entertained me was nice and not 'pushy' unlike those from the other tables. I love traveling and I found the membership and benefits worthy. But I declined the offer because I wasn't ready to pull out money from my account to pay that big amount for a luxurious getaway. Then they gave my gift cert and assured me that I will be able to use it. So I called and you asked me to send a copy of that cert with the booking dates. I did. Now I got our reply that the dates were fully booked.  That's ridiculous! I searched on different travel websites, Agoda, Asiatravel, Expedia, and even your own crownregency.com site and tried to book the same dates and it's not fully booked. I swear! Lots of available rooms.
Now I get to understand why so many people out there have negative thoughts about club ultima. Why do these telemarketers say it's free when it's not? Why give these certificates if the dates are always fully booked when we are about to use it?  Sorry that I am saying this to you. It's not you personally, but your services. You have good hotels with good facilities and amenities. But if you continue doing such schemes, you'll be losing a lot of clients and customers. This email is not intended to destruct your company but to give you a wake-up call of what other people are talking about on the internet regarding your services. It's more of a constructive criticism, and not destructive at all.
 Click the link below if you want to learn more about what I'm talking about: Negative posts and comments about Club Ultima
Please don't get me wrong here. I'm just sharing out my point. Now, having said all these, I would like to go back to my original query. Can I still possibly book my reservation for these dates? Or will you still tell me that it's still fully booked? Thank you very much for reading. I hope you also forward this to your management.
CLUB ULTIMA: (7/2/2014)
I understand your predicament, however, we only have room allocations for this certificate and your preferred dates were full already at Crown Regency Hotel & Towers. Yes, there are still available rooms on the websites you mentioned and even our online bookings, but it's also their room allocations from Crown Regency which are not yet taken.
As stated in the mechanics of the gift certificate, it is subject to room availability and a minimum of two weeks advance booking is required. This is to make sure that we can get a room for our guest since we receive plenty of bookings using gift certificate like yours. If you really want July 12-14, what can I offer is Crown Regency Residences in V. Rama Ave, Guadalupe Cebu City and if you want Crown Regency Hotel and Towers, you may change your schedule in later dates. Thank you.
ME: (7/2/2014)
You know what, one of your telemarketers, Andrei Santos 09228825695, called me just 20 minutes ago, he was inviting me again to club ultima presentation at West Ave. He's the one who called me 2 wks ago. He said the same exact thing. I clarified about the 3D2N stay gift cert that you're giving and I asked him if I can book a reservation for next week and he said yes. I asked if it's not fully booked at crown regency hotel Cebu, and he said no. meaning he confirmed that I can use the gift cert anytime, even next week, July 12-14,2014. and when I told him that he already called last time and I already went to club ultima west ave, he was surprised. I told him that I've been trying to book our Cebu travel next week and that you told me that it's fully booked and he said that it's not. that I can book for next week at the hotel, not at the residences. then he said he will contact reservation to clarify this and said that he will call me back in 5 minutes… I asked for his email so I could forward our conversation, but he said no need coz he'll call me right back. he even said that he'll email me so I can have his email address. I told him I'm going to give him my email add since I haven't given it yet, but he HUNG UP on me…
how do u think can he send me an email without him knowing my email add??!! what's wrong with these guys? they were really nice and friendly when they're inviting, and now that i need them, they'll just hang up like that?!?!? and see, it's been 30 minutes and he hasn't called me back!?! Please advise on what i need to do with these issues. i am sooo disappointed with you guys.. im not a member of club ultima, but i guess this is not how you're supposed to treat your potential clients. Thanks!
CLUB ULTIMA: (7/5/2014)
In behalf of Club Ultima, we would like to apologize of your experiece with one of our telemarketers. Rest assured that their department will take actions on this matter. I'm writing regarding your reservations/booking on July 12-14, 2014.   We do have an availability at Crown Regency Residences, Guadalupe, Cebu on your preferred date. However, we are fully booked at Crown Regency Hotel and Towers since we are only given room allocations. Let me also point out that one of the mechanics stated in the certificate says, . 1. "Subject to room availability. Minimum of 2 weeks advance booking is required."
If you really prefer to be book at Crown Regency Hotel and Towers, kindly provide us other date instead. Or you can have it book some other time as our certificate has no expiration date. Again, we apologize for what had happened. Thank you.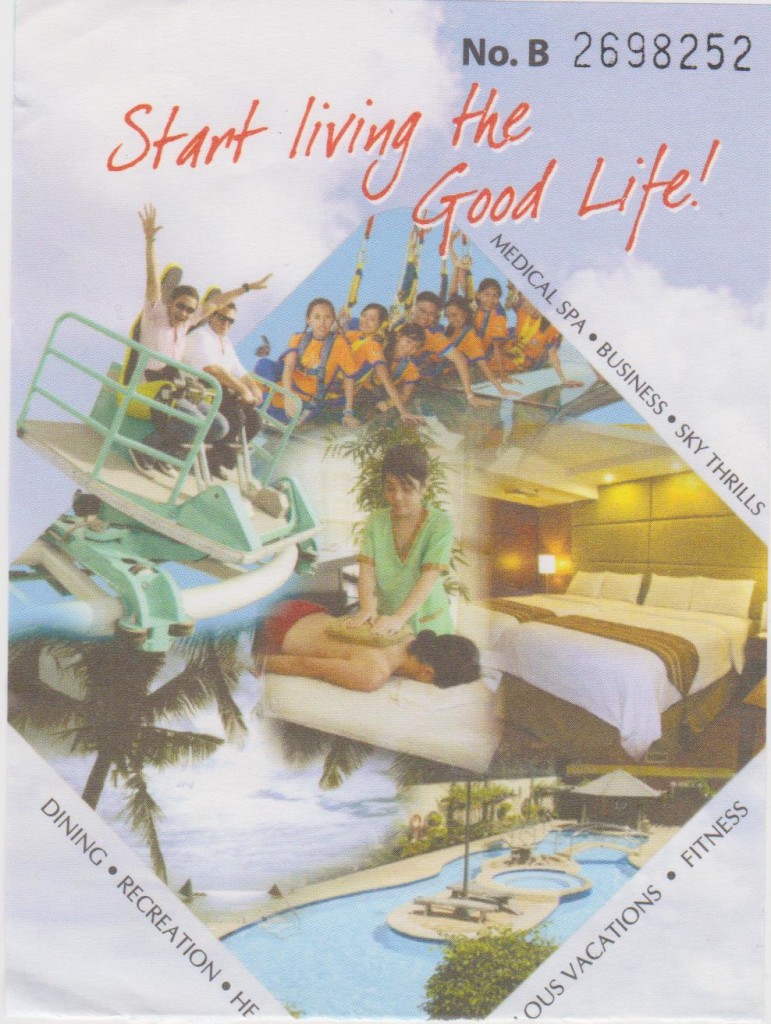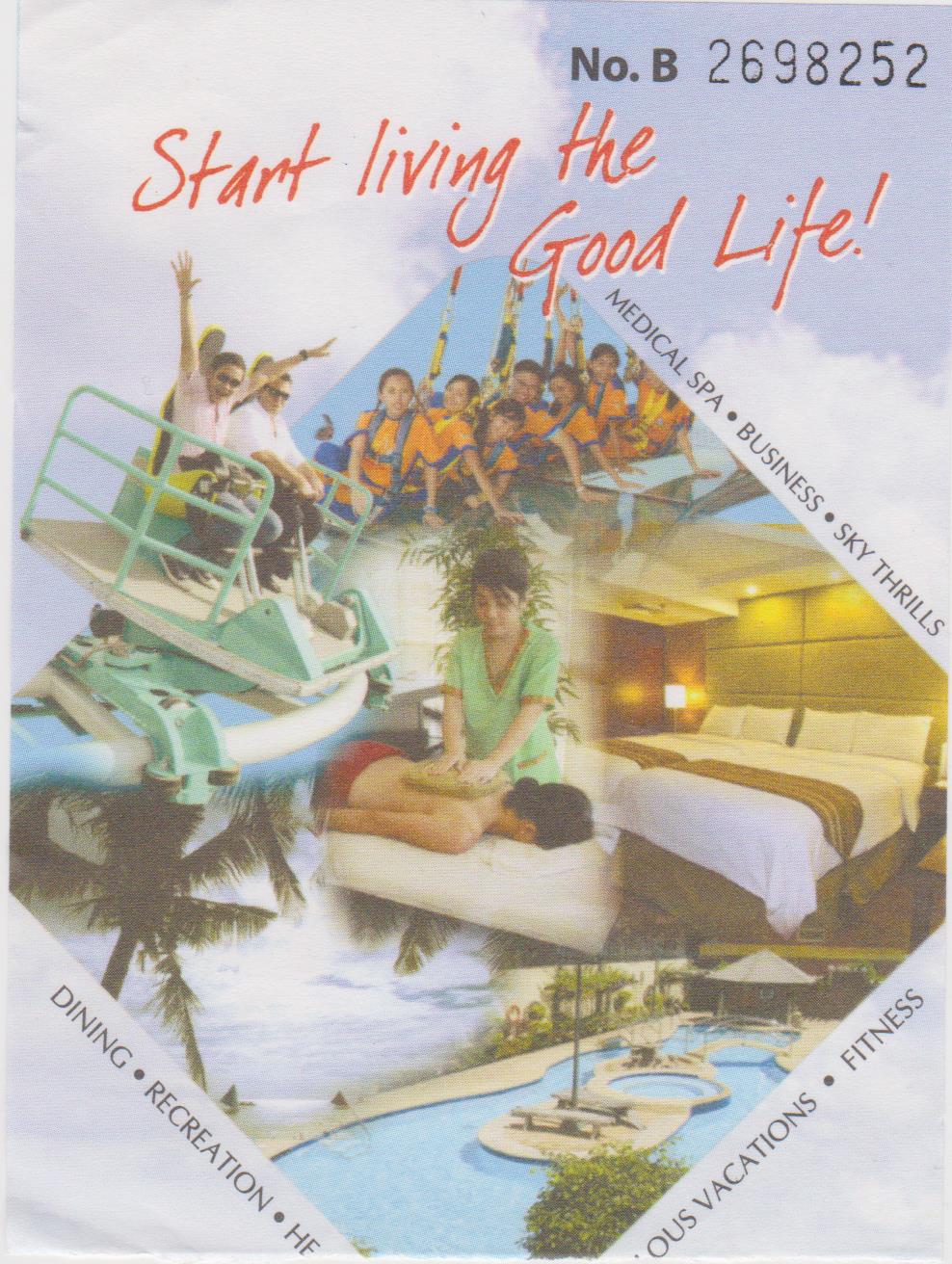 That's the end of our email thread. I didn't reply anymore because I was just so disappointed with Club Ultima. We were able to go to Cebu for our short vacation but we didn't stay at Crown Regency Hotel. We stayed in another hotel instead.
But since she said that the gift certificate has no expiration date, I might reconsider booking a reservation at Crown Regency Hotel in Cebu in the future.
I checked Crown Regency's current rate and for a Superior Room, it's Php 3,050 per night. If I use the gift cert, they said that I only have to pay Php 3,000 for the booking fee and I can stay there for 3 days and 2 nights. Hmm, not bad… if it's true and if there are no other charges. It's like a 50% discount for me.
Oh well, I have no plans of going to Cebu in the near future, but I'll see if this gift certificate from Club Ultima is even worth considering.