iCon 2015 Investment Conference – An Empowering Experience!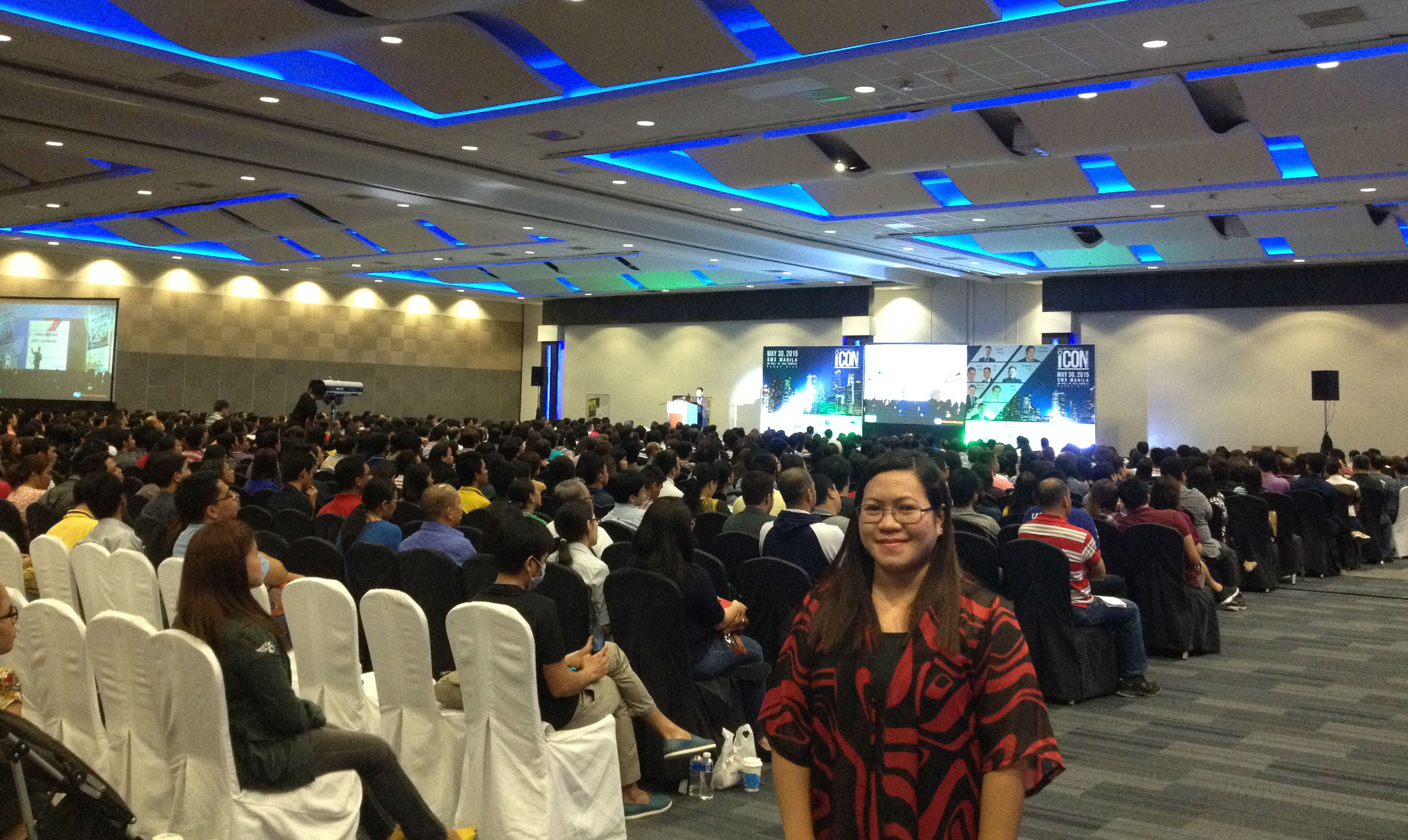 I was privileged to attend the Investment Conference 2015 (#iCon2015) by Mr. Randell Tiongson at the SMX MOA Convention Center yesterday, May 30, 2015, where most of the country's experts in Finance and Investment were present. Big thanks to Marvin Germo of Stock Smarts for inviting me to the event! 🙂
I went there to co-promote the upcoming workshops of Marvin in partnership with Manila Workshops, which is the Comprehensive Technical Analysis Series to be held in June-July of this year. It was also the book launch of Marvin's third book, entitled, Stock Smarts Stress-free Investing, which was a big hit at the event. And thanks also to Mrs. Stock Smarts, Yvonne Goh-Germo, for giving me a copy of this book. 🙂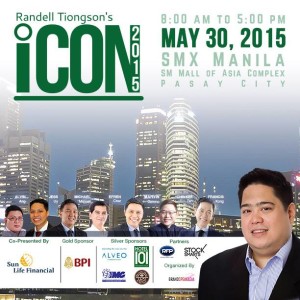 So how did the conference go?
This year's iCon was a full house with more or less 1,500 people present at the SMX MOA Convention Center.
I was able to take a few notes from some of the speakers before I got busy accommodating inquiries for our workshops.
The first speaker was none other than the man behind iCon, Mr. Randell Tiongson, a columnist, and best-selling author of "Money Manifesto," who talked about balancing finances and investments and an overview of growing trends that affect investing.
According to him, there are more reasons to invest in the country including strong infrastructure development, public private partnerships, demographic sweet spots, and the increasing number of OFWs and BPOs.
He also stressed that interest rates are so low, thus we have no choice but to INVEST!
How?
Invest EARLY, WISELY, and REGULARY.
Step 1 – Improving Cash Flow
Step 2 – Getting out of debt
Step 3 – Setting up your Emergency Fund
Step 4 – Getting protected from life's risks
Step 5 – Investing for your future
The second speaker was Mr. Chinkee Tan, a radio host, wealth coach and best-selling author of "Till Debt Do Us Part". His topic was: Breaking the Entrepreneurship Mindset.
Some of us think that the rich people became rich because they have a lot of money. But according to Sir Chinkee Tan, money does not create money. It's the ideas that create money.
"If you have a burning idea as an investor or entrepreneur, never allow the lack of money to stop you from working on that idea and making it big." (not his exact words but it was something like that)
3 reasons why people fail are the lack of knowledge, fear, and greed. That's why he suggests,
Only invest in what you understand

Don't use your feelings / emotions in investing

Never invest out of greed (because greedy people get burned)
How to invest successfully?
Invest WISELY – Knowledge is power, as well as investment.
Invest CONSISTENTLY – It takes time to achieve financial freedom.
Invest PATIENTLY – Patience is truly a virtue in successful investing.
Invest CAUTIOUSLY – One rule of investing to live by: Always have a backup plan.
In investing, hope for the best, but expect for the worst as well, because anything can happen. Don't invest all your hard-earned money. Only invest what you can afford to lose.
This is the official copy of #iCon2015's program flow with the complete list of speakers and their topics. Unfortunately, I wasn't able to take additional notes from the other speakers because I was busy promoting our workshops and accommodating inquiries. But I sure did learn a lot from all of the speakers.
This year's Investment Conference was indeed a big success — power-pack, informative, insightful, and empowering! Congratulations to Sir Randell Tiongson and his team! I can't wait to attend next year's iCon! 🙂
Sharing some of my photos at the event…
It was my second time to listen to Mr. Francis Kong in an event like this and I always get inspired by his wisdom and public speaking skills.
Mr. Francis Kong: My wife is my great TREASURE…

Audience: Ohhh, so sweet.

Mr. Francis Kong: and my great TREASURER as well.

Audience: clapped and laughed out loud 🙂
Investing is not all about building wealth. According to Mr. Kong, we should also invest in other things like:
1. Investing in yourself – attend trainings/seminars/courses that will add value to you.
2. Investing in good friends – they are the people who can bring out the best or worst in you.
3. Investing in culture and adventure – experience is always the best teacher.
4. Investing in your family at all times – they are the reason you are striving to be the best.
5. Investing in spirituality – remember, everything that we have comes from God. We should give thy glory and honor to Him who make things possible.
(Courtesy of TheCristobal.info)
I first met Sir Efren Llamas Cruz at the #FFF2015 event and we had a photo together but he had already left the venue when I realized that our photo was blurred. So when I saw him at the #iCon2015 event, I made sure that we'll have a photo taken together and this time it was clearer. Yay! 🙂
Sir Efren talked about Managing Investment Risks and he emphasized the importance of diversifiying our investment. "Don't put all your eggs in one basket." Meaning, we should put our funds in savings, mutual funds, stocks/equities, among other options.
I also had the chance to have a small talk with Jess Uy after his talk on Global Investing, where he stressed out the importance of thinking global. He said that it's good to invest in the Philippines because of its high investment grade, but we should also consider other investment opportunities outside the country. He also mentioned that in Singapore and some other countries, we can buy insurance 3 times cheaper than its price in the Philippines for the same or even higher value. Hmm, that sounds interesting!:) I also commended him for his amazing video presentation during his talk. It was nicely done. Very unique and powerful.
And of course my favorite speaker, Marvin Germo! 🙂 He never fails to amaze his audience by his wit and humor, and his ever-sweet jokes about his being a loving and understanding husband to his lovely wife, Yvonne, who was sitting right beside me during the event because we were on the same table. 🙂
Carl Dy, a propery investor and the President of Spectrum Investments, was also at the event, together with Ms. Christine Foong-Wong, the founder of Rhemaworks in Singapore to introduce and invite people to their "Spectrum Education." Ms. Wong answered the question of "what is stopping us unconsciously from having it all in our life?", where she shared a little bit about herself and experiences before she founded Rhemaworks.
Lianne Martha Laroya, commonly known as the Young Pinoy Millionaire and the founder of thewiseliving.com, was also at the event to promote her book. I've seen Lianne a couple of times in some of the seminars that I've attended and we've exchanged emails too, but we never had a photo together. So when I saw her at the iCon2015, I made sure that I won't leave the event without taking a photo with her. We had our photo together finally! (medyo blurred nga lang hehe).
I also saw one of my good friends in college and my co-varsity player of Arnis :), Vanezza Bayaton-Obispo, who now works for MoneySense.
I've heard a lot about Marvin's wife during his workshops (which I organized), and I was pleased to finally meet her in person. Such a wonderful and approachable lady. It was nice meeting you, Mrs. Stock Smarts, Yvonne Goh-Germo! 🙂 And it was also nice to see Rhizza Diaz again, whom I first met at the FFF2015 event. Thanks for taking most of my photos with the experts! 🙂