Attend FREE Stock Market 101 Seminar by PSE Academy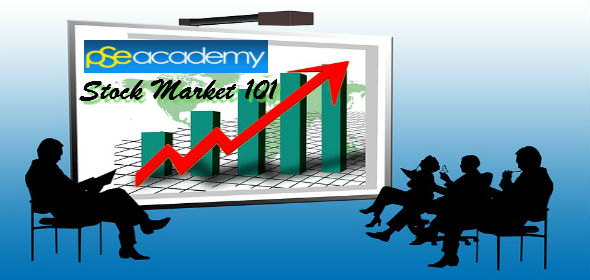 (Note: This is the continuation of my previous post, Where and How to Start Investing in the Stock Market)
I initially intended to share simple and short tips on a single post but it became lengthy as I was writing so I decided to write each tip on separate posts. Hope you find it easier to read this way. If not, don't worry, I will make a quick guide or a summary of related topics on a single post with their corresponding links.
Anyways, here we go…
The very first tip that I suggest is to
Learn the basics of the stock market by attending seminars.
Since I didn't know who to ask about the stock market, I attended seminars to widen my knowledge and to learn from the people who are into this field. Searching for these seminars was difficult for me at first because I didn't know where to find them. There were several advertisements on the internet that were related to investing in the stock market but I didn't know which of them were legitimate and which of them were scams.
Luckily, I found resources on the internet and I got the chance to attend most of the seminars for free. My only challenge then was the order of the seminars that I've attended was kind of disorganized. I attended one that was too complex and difficult for me to understand as a newbie in the stock market. Then I found out that there was another seminar that covers the basics which I wished I attended first prior to the more complicated topic.
And since I don't want you to go through the same confusing learning experiences that I did, I'll share to you a list of the seminars that will help you learn and understand the stock market first before you start investing in it. Again just a disclaimer, this is only based from my personal experience and opinion and you don't necessarily have to follow this if you don't find it helpful or appropriate.
A. Attend the FREE Stock Market 101 Seminar by the PSE Academy.
It's the basic guide to investing in the Philippine Stock Market and it's principally intended for interested individuals and first-time investors with no or little market knowledge and investment.
Below is the actual list of topics that I got from their website.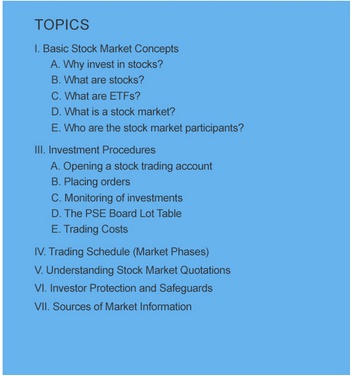 The schedule is every 2nd and last Tuesday of the Month, from 10:00AM to 12:00NN.
The venue is at 2/F PSE Center, Tektite Building, Exchange Road, Ortigas Center, Pasig City.
Registration is FREE and for reservation, email academy@pse.com.ph or click this link to request training or workshop.
If you're too busy or you don't have time to attend the seminar, worry no more because PSE Academy is kind enough to share the Basic Stock Market Seminar Primer on their website. Just download the Attachment: 20140619100622435_Basic Stock Market Seminar Primer.pdf and you'll be able to see the same presentation/slides that they use in the seminar.
The only difference is you don't get to see your awesome trainer and co-participants and you're unable to participate in the discussion and raise your questions. Plus, you miss the chance to join and win their contests if there's any. When I attended the seminar, I was given an 8-gig limited edition PSE bull USB flash drive by just following the trainer's instruction to wave my hand in the air when she raised a question. 🙂 Not only did I learn a lot from the seminar but having the USB flash drive also made my day!
Source: http://www.pseacademy.com.ph/