Cashflow 101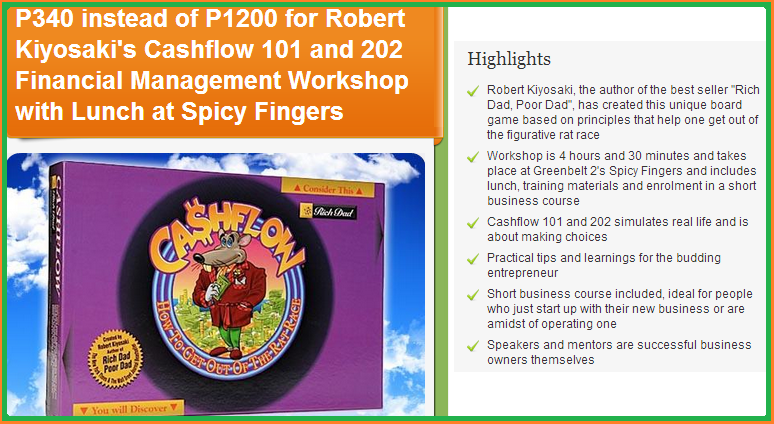 4/26/14
Investing in the stock market is not completely new to me. I first heard about it two years ago (2012) when I found an item on Metrodeal about a seminar-workshop on investing.
It's called the Cashflow 101 and after checking all the details, I bought it online and attended the half-day event at Spicy Fingers, Greenbelt 2 Ayala Center, Makati City.
As far as I remember, it started with a short topic about investing and what makes rich people richer and poor people poorer. I forgot the name of the speaker but after the short talk, it was then followed by the workshop proper.
I really had no idea what the workshop would be like before I went to the venue and I was surprised when I found out that it was literally a board game. I've never played it before but my thought that time was that this was similar to the millionaire's game. No real money was involved, only play money.
During the game, we were given same amount of cash (play money) and we simulated investing in stock market, buying properties, putting up businesses, and spending for our personal needs and wants. Whoever gets the highest amount of assets and fewer liabilities at the end of the game will be the winner, which meant that he was able to manage his funds properly and earned substantial returns.
The P340 fee that I spent for this event was really worth it. Not only did I enjoy the board game but also the delicious lunch that they served. More than that, I learned new things about taking control of my personal finances, proper cash flow management, and how to earn passive income. One thing that caught my interest was investing in the stock market which I had no idea on how to do it. All I knew when I heard about stock market back then was that it was only for the rich people and the businessmen.
One of my co-participants in that event encouraged me to invest in the stock market and she referred me to the Philippine Stock Exchange website for more info. I did check it when I got home but I didn't really understand what stock market was all about even after reading some resources.
I totally forgot about the cashflow101 workshop and stock market investing until after two years when I got ample time to read and read and read anything that I found online about investing… And now I'm proud to say that even if I am still a newbie in the stock market, I am ready to take on the challenge and I'm excited to play the real game.