[dropcap]I[/dropcap]f you're an investor, you've probably heard of Aughost – which some people refer to as August being a ghost month. If you haven't, don't worry, I feel for you. 🙂
I did a brief research on this and here's what I found from my source. Ghost month is the seventh lunar month in the traditional Chinese calendar. This is significant to some people because of the belief that this is a bad time to do activities such as traveling, moving house, and starting a new business or investing. To know why, here's an excerpt from wikipedia with photos.
[column size="one-half"]The Hungry Ghost Festival is celebrated during the 7th month of the Chinese calendar. It also falls at the same time as a full moon, the new season, the fall harvest, the peak of monastic ascerticism, the rebirth of ancestors, and the assembly of the local community. According to tradition, during this month, the gates of hell are opened up and the hungry ghosts are free to roam the earth where they seek food and entertainment. These ghosts are believed to be ancestors of those who have [/column]
[column size="one-half" last="true"]forgotten to pay tribute to them after they died. They have long thin necks because they have not been fed by their families. Tradition states that families should offer prayers to their deceased relatives and burn "hell money". It is believed that "hell money" is a valid currency in the underworld and helps ghosts to live comfortably in the afterlife. People also burn other forms of joss paper such as paper houses, cars and televisions to please the ghosts.[/column]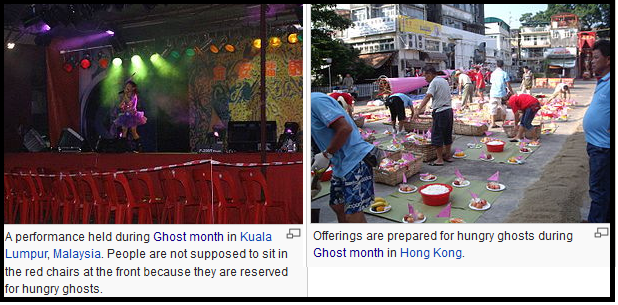 I'm no good in story-telling so if you're interested to know more about this ghost month thingie, please go ahead and click this link. 🙂
Going back, I first heard of it when I attended COL Financial's briefing on COL Positioning for 2015 at the Meralco Theatre two days ago. One of the attendees asked,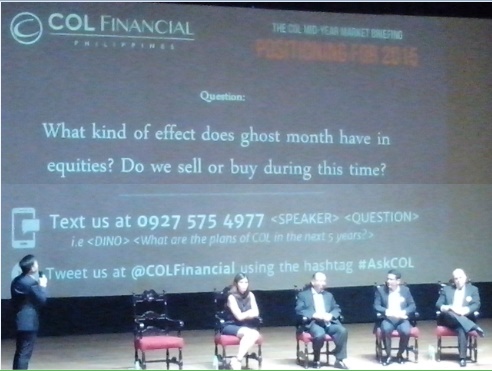 I don't know if I got it all correctly but I'll share with you some points that I've written on my notes based on the the panelists' answers to this question and their suggestions for investors. Some of these are based on my personal opinion.
Lower volume of trades is expected this month because some investors may sell their stocks to stay liquid in their assets.

It can be a good opportunity for investors who do cost averaging because the share prices may be lower at this time.

Study the stock market and do your own research on the fundamental and technical analysis of the companies that you want to buy shares with. If you think you don't have the skills to do so, take advantage of COL Financial latest research which can be found at the COL's account homepage.

Reevaluate your portfolio, diversify, and as much as possible, go for long term investment in the stock market. It is way safer than active trading, unless you have the necessary skills.

On whether they should sell their shares or not, one of the answers I got was to hold on to the stock for now. Don't sell especially if it's at a loss. Wait until the valuations recover and bounce back.
These temporary changes in the stock market are not affected solely by this so-called ghost month. It may have created a stir in the market but we have to bear in mind that there are so many factors that affect the market performance and the valuation of shares and that include the fundamentals of the companies and the current status of the country in terms of inflation rate and all other factors.
Again, I don't claim to be an expert. But if you'd ask me whether it's a good time to invest or not, here are my personal opinions on this.
If you are a long term investor, continue to add shares because you might get them at a much lower price this month. And this might give you good returns overtime.

If you are a short-term investor or an active trader, pay close attention to the fundamentals of the companies that you want to buy or have shares with. Or better yet, take a break from the stock market for now, anyway, it's vacation season for many global fund managers.

If you feel that it's really a good time to invest in the stock market, then do it at your own risk. At the end of the day, it's still you who will decide for your own funds.
To all of us, good luck and happy investing! Enjoy the 'ghost month' with patience and positivity.
[hr]
Disclaimer: I'm not a banker, fund manager, stock market expert, or investment guru. I'm just a typical newbie in the stock market, who's trying to share what I know about investing to the readers of this blog. I don't represent or endorse the companies or entities mentioned in this post. If you find this article substantial in your investing venture, then take it at your own risk and be responsible for your decisions. I am not liable for whatever results this may bring about in your investments.
[hr]
Image Source:
http://en.wikipedia.org/wiki/File:GhostFestivalsMalaysia002.jpg
http://en.wikipedia.org/wiki/Hungry_ghosts_in_Chinese_religion#mediaviewer/File:Ghost_Festival_in_Ping_Chou.JPG
Attribution:
Ghost Festival in Ping Chou, Hongkong
CC BY-SA 3.0 Ws227 – Photo taken by Chinese Wikipedia user Ws227 herself
Comments
comments