My 12 Key Takeaways from the Cashflow 101 Event
Two weeks ago, I attended the Cashflow 101 board game / workshop at the Crown Plaza Hotel in Ortigas, Pasig City. This was my second time to play this board game. The first time was early in 2012 and that was also the first time I heard about the stock market, which I shared on one of my blog posts HERE.
Few days prior to this event, I met the organizers of the Rich Dad, Poor Dad events here in the Philippines, the smart and lovely ladies from Laurus Enterprises – Joana, Paula, and Jev. 🙂
During that meeting, we talked about the upcoming 'Masters of Wealth' Business Conference with Robert Kiyosaki and 7 other International Speakers. They also mentioned that they will be holding the Cashflow 101 board game in November, few days before the big event.
I got excited and I even told them that I attended that same board game in the past and I've been wanting to attend Cashflow 101 again.
I was surprised to know that Laurus Enterprises is the exclusive organizer of Cashflow 101 workshops and Rich Dad activities in the Philippines and has been the official partner of Rich Dad Training (S.E.A.) Pte. Ltd. since January 2005. Unfortunately, the one that I attended in 2012 wasn't organized by them since they don't hold their events in a restaurant.
Hmmm, I wonder who the organizers were on that first Cashflow 101 board game that I attended…
Anyway, I told them that I was really interested to attend their Cashflow 101 event and it was so sweet of them to have given me 2 complimentary seats for me and my friend, Shyne.
WHAT IS CASHFLOW 101
For those who are not familiar with this game, Cashflow101® is a board game created by Robert Kiyosaki, author of the Best-Selling book, Rich Dad Poor Dad, to serve as a bridge from learning the Rich Dad concepts from the books towards applying those concepts in a safe environment first (no real money is involved in the board game, this serves as a practice ground). It is only through practice that the firm foundation of financial literacy is formed. (Source)
Cashflow 101 is a half-day event that will give participants an overview and hands-on understanding on what makes rich people richer and poor people poorer.
The main goal of this game is to get out of the Rat Race and onto the Fast Track by building up your Passive Income to be greater than your Total Expenses.
AT THE CASHFLOW 101 EVENT
The event was facilitated by Jerome San, the only person in the Philippines that has been personally trained by Mr. Bellum Tan, the CEO of Rich Dad Training S.E.A. Pte. Ltd. And he is also the CEO of Laurus Enterprises.
Jerome San shared the principles of the Rich Dad, Poor Dad by Robert Kiyosaki before, during, and after the Cashflow 101 board game.
There were around 200 participants of the Cashflow 101 event on November 8, 2015, and one moderator was assigned in each table with 8-10 participants. Paula Lopez was the one assigned to us at Table 8. 🙂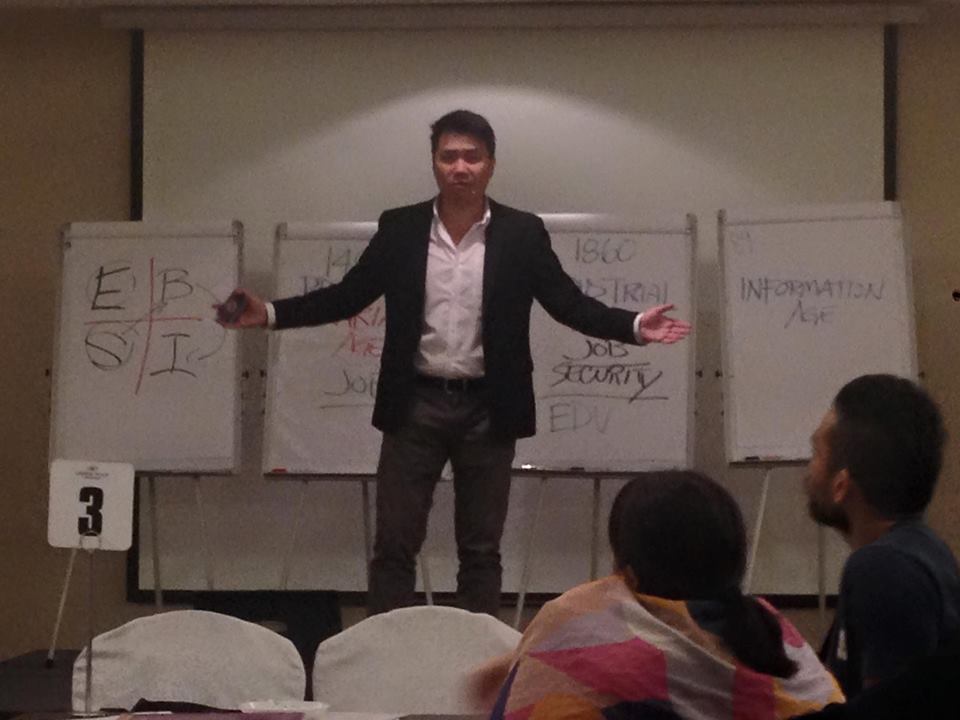 My Key Takeaways from the Cashflow 101 board game and workshop:
Focus on building and acquiring assets rather than liabilities.
Assets – are things or properties that will continue to work for you and provide you income whether you work or not.
Is buying a car an asset or a liability?
Answer: It depends… Will it provide you income whether you work or not?
Build more passive income than active income and expenses. This will prepare you for your financial freedom.
People don't get started because they focus on the lack of capital, time, and know-how.
What to do?
Know what you have now – your resources, knowledge, skills, talents…
You might have what you need to get started. And along the way, the journey will provide what you need.
Start small, think big. Start small, start now!
A lot of people always think of becoming rich right away. They want to have a huge business and lots of assets. But we should always remember, that it takes big to have big. Learn how to start small, but have a big goal in mind.
If you're employed, you work hard for money. If you have a business, your money work for you.

If you're building a career, make sure you're building YOUR assets, and NOT someone else's assets. (My favorite of all and also a wake-up call for myself)
Use debt as a leverage to take advantage of opportunities.
Take risks. Learning doesn't only happen in school but also when you take risks. The greatest risk is NOT to take the risk at all.
Every opportunity comes from a problem. Don't be afraid when you encounter a problem for every crisis comes an opportunity.
Solve small problems, get small profit. Solve big problems, get big profit.
Problem solving is a skill. The good thing is, skill can be acquired.
Always play above the line. You'll see your greatness if you see yourself above the line. Everyone is given different sets of potentials and skills. Our task is to enhance and maximize our skills to come up with something greater.

Knowledge is not power. Knowledge is power with ACTION!
(Just a disclaimer, this list is only based on what I remember from the event and may not necessarily mean that these are the exact words or principles of the Cashflow 101 or Rich Dad, Poor Dad training.)
Even if I already attended the Cashflow 101 game before and I already had an idea how it was played, I was still very excited to play it again. And I wasn't disappointed. I enjoyed every bit of the game. I learned a lot and I had so much fun. I was also one of the few lucky participants who finished the game with higher passive income than expenses, which is one of the main goals of this board game.
My challenge now is to apply the principles I learned from the Cashflow 101 event and to start working on building my passive income and acquiring assets over liabilities.
I know it's easier said than done but I'll do my best to follow these principles in real life.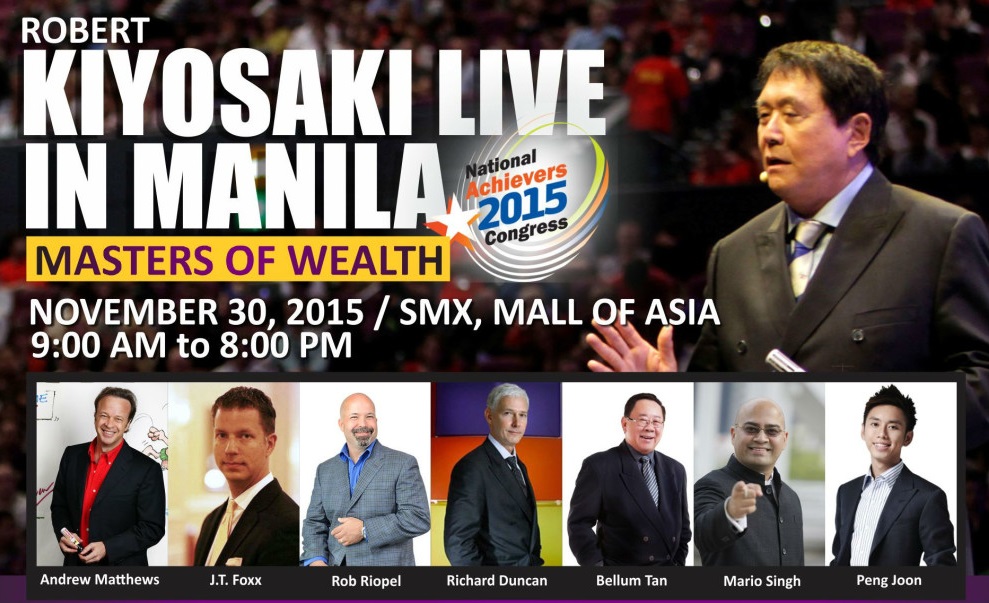 Robert Kiyosaki LIVE in Manila for the Masters of Wealth Business Conference
I would also like to take this opportunity to invite you to the Masters of Wealth Business Conference with Robert Kiyosaki and 7 other International Speakers including:
Andrew Matthews – Best-selling Author and International Speaker
J.T. Foxx – World's No. 1 Wealth Coach
Robert Riopel – Top International Trainer
Bellum Tan – CEO of Rich Dad's Training (S.E.A.) PTE LTD.
Richard Duncan – Economist and Best-selling Author
Mario Singh – Asia's #1 Forex Coach
Peng Joon – Authority in Wealth Creation Online
What You Will Learn:
The importance of financial education

Why right now is your best opportunity to start a successful business

How good debt is easy to get and can make you rich

Raise venture capital to fund your dream

The skills you must know for business, sales, and entrepreneurial success

What holds back the average person from achieving more in life

How to transition from an employee mindset to a business owner mindset

The good, the bad, and the great opportunities to thrive in 2016

What you will need to capitalize on global volatility in 2016

Generate multiple streams of income before the crash in 2016
This is a rare event and it will happen on November 30, 2015 at the SMX Convention Centre, Mall of Asia, Pasay City. You may visit Manila Workshops for more details and ticket availability.
This is rather a long post but I hope you learned a lot from what I shared here. Thanks for reading and let's hope and pray for a brighter future for all of us!
How about you, have you already attended the Cashflow 101 event? How was your experience and what did you learn from the game?